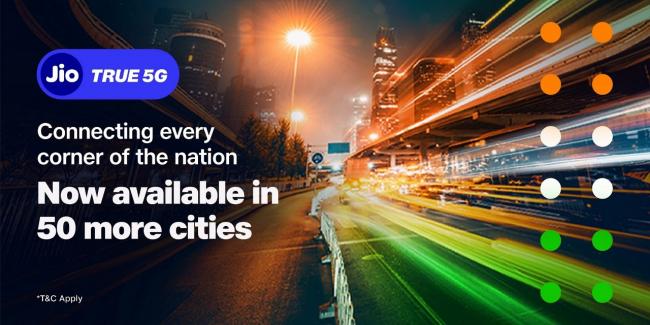 JIO ANNOUNCES THE LARGEST EVER JIO TRUE 5G ROLL-OUT WITH 50 CITIES ACROSS 17 STATES / UT
Jio is the first and the only 5G operator in most of these cities
Jio users across 184 cities now enjoying True 5G service
3 new States/UT, Goa, Haryana & Puducherry to get Jio True 5G from today
Hon'ble Lok Sabha speaker, Shri. Om Birla to inaugurate Jio True 5G in Kota
Hon'ble Home Minister of Haryana, Shri. Anil Vij inaugurates Jio True 5G in Haryana circle.
Mumbai, 24 th January 2023: Reliance Jio today announced the largest-ever launch of its True 5G services across 50 cities. With this, Jio users across 184 cities are now enjoying Jio True 5G services.
Reliance Jio has become the first and the only operator to launch 5G services in most of these cities. Jio users in these cities will be invited to the Jio Welcome Offer, to experience Unlimited Data at up to 1 Gbps+ speeds, at no additional cost, starting today.
Commenting on the occasion, Jio Spokesperson said, "We are thrilled to launch Jio True 5G services in 50 additional cities across 17 states and union territories, taking the total count to 184 cities. This is by far one of the largest rollouts of 5G services, not just in India, but anywhere in the world.
We have stepped up the speed and intensity of True 5G rollout across the nation because we want every Jio user to enjoy the transformational benefits of Jio True 5G technology in the new year 2023. The entire nation will be able to enjoy and benefit from Jio True 5G services by December 2023.
We are grateful to the State Governments of Andhra Pradesh, Assam, Chhattisgarh, Goa, Haryana, Jharkhand, Karnataka, Kerala, Maharashtra, Odisha, Puducherry, Punjab, Rajasthan, Tamil Nadu, Telangana, Uttar Pradesh, and West Bengal for their continuous support in our quest to digitize every region."
Jio True 5G has a three-fold advantage that makes it the only TRUE 5G network in India:
Stand-alone 5G architecture with Zero dependency on 4G network
The largest & best mix of 5G spectrum across 700 MHz, 3500 MHz, 26 GHz bands
Carrier Aggregation seamlessly combines these 5G frequencies into a single robust "data highway" using an advanced technology called Carrier Aggregation
No. City State
1 Chittoor Andhra Pradesh
2 Kadapa Andhra Pradesh
3 Narasaraopet Andhra Pradesh
4 Ongole Andhra Pradesh
5 Rajamahendravaram Andhra Pradesh
6 Srikakulam Andhra Pradesh
7 Vizianagaram Andhra Pradesh
8 Nagaon Assam
9 Bilaspur Chhattisgarh
10 Korba Chhattisgarh
11 Rajnandgaon Chhattisgarh
12 Panaji Goa
13 Ambala Haryana
14 Bahadurgarh Haryana
15 Hisar Haryana
16 Karnal Haryana
17 Panipat Haryana
18 Rohtak Haryana
19 Sirsa Haryana
20 Sonipat Haryana
21 Dhanbad Jharkhand
22 Bagalkote Karnataka
23 Chikkamagaluru Karnataka
24 Hassan Karnataka
25 Mandya Karnataka
26 Tumakuru Karnataka
27 Alappuzha Kerala
28 Kolhapur Maharashtra
29 Nanded-Waghala Maharashtra
30 Sangli Maharashtra
31 Balasore Odisha
32 Baripada Odisha
33 Bhadrak Odisha
34 Jharsuguda Odisha
35 Puri Odisha
36 Sambalpur Odisha
37 Puducherry Puducherry
38 Amritsar Punjab
39 Bikaner Rajasthan
40 Kota Rajasthan
41 Dharmapuri Tamil Nadu
42 Erode Tamil Nadu
43 Thoothukudi Tamil Nadu
44 Nalgonda Telangana
45 Jhansi Uttar Pradesh
46 Aligarh Uttar Pradesh
47 Moradabad Uttar Pradesh
48 Saharanpur Uttar Pradesh
49 Asansol West Bengal
50 Durgapur West Benga