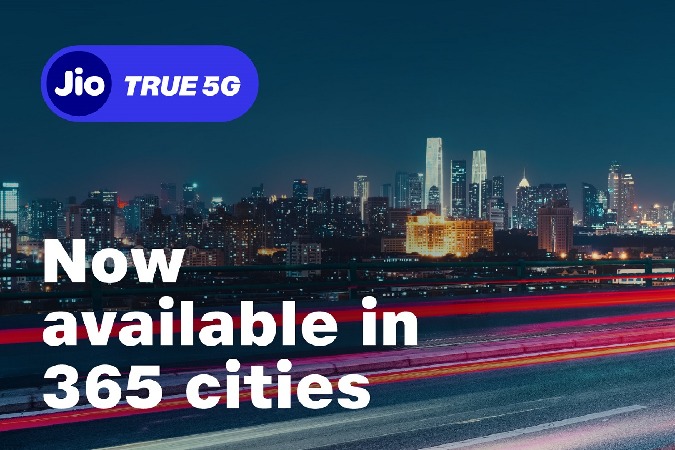 Mumbai, 16 th March 2023: Reliance Jio today announced the launch of its True 5Gservices in 34 new cities across the country. Jio is working towards India's digital transformation by becoming the first telecom operator to extend futuristic and pioneering True 5G services to most of these cities. Starting today, the technological advantages of high-speed, low-latency, stand-alone True 5G services shall be made available to the people and businesses of these cities, opening new growth opportunities in the areas of tourism, manufacturing, SMEs, e-governance, education, healthcare, agriculture, automation, artificial intelligence, gaming, and IT.
Commenting on the launch, Jio Spokesperson said, "We are proud to rollout Jio True 5G in these 34 cities. This is a tribute to millions of Jio users in these cities who will start enjoying the benefits of Jio True 5G technology. Jio engineers are working round the clock to deliver True-5G to every Indian so that the transformational power and the exponential benefits of this technology can be experienced by every citizen of the country.
By December 2023, Jio True 5G will reach every town in the country. This is testimony to Jio's commitment towards transforming India into a Digital Society. We continue to remain grateful to the State Governments and Administrators for their support to digitize their regions."
Jio True 5G has a three-fold advantage that makes it the only TRUE 5G network in India:
1. Stand-alone 5G architecture with advanced 5G network with Zero dependency on 4G network.
2. The largest and best mix of 5G spectrum across 700 MHz, 3500 MHz, and 26 GHz
bands
3. Carrier Aggregation that seamlessly combines these 5G frequencies into a single robust "data highway" using an advanced technology called Carrier Aggregation
Starting 15 th March 2023, Jio users in these 34 cities will be invited to the Jio Welcome Offer, to experience Unlimited Data at up to 1 Gbps+ speeds, at no additional cost.
List of 34 cities:
1 Amalapuram
Andhra Pradesh
2 Dharmavaram
3 Kavali
4 Tanuku
5 Tuni
6 Vinukonda
7 Bhiwani
Haryana 8 Jind
9 Kaithal
10 Rewari
11 Dharamshala Himachal Pradesh 12 Kangra
13 Baramulla
Jammu & Kashmir 14 Kathua
15 Katra
16 Sopore
17 Haveri
18 Karwar Karnataka
19 Ranebennur
20 Attingal Kerala
21 Tura Meghalaya
22 Bhawanipatna
Odisha 23 Jatani
24 Khordha
25 Sundargarh
26 Ambur
Tamil Nadu
27 Chidambaram
28 Namakkal
29 Pudukkottai
30 Ramanathapuram
31 Sivakasi
32 Tiruchengode
33 Viluppuram
34 Suryapet Telangana