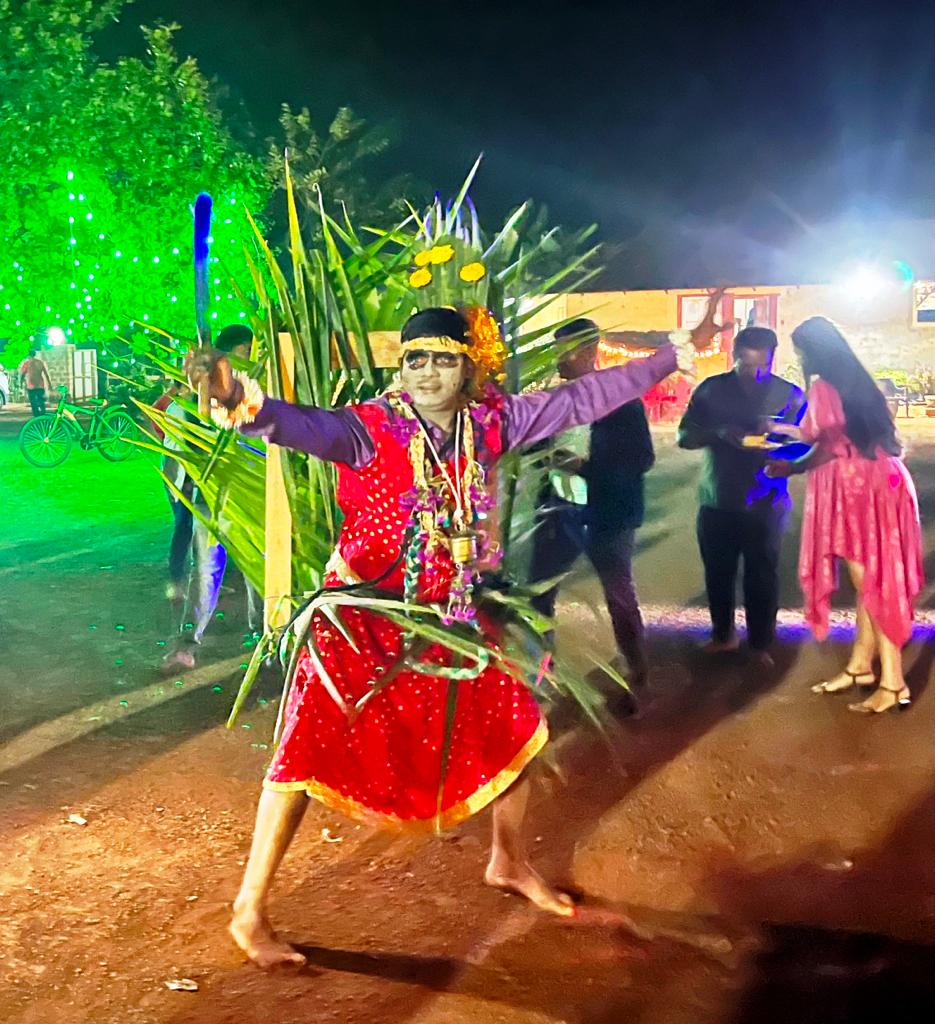 The success of the Kantara movie has spread all across the globe; the film has garnered immense love from the audience and the critics. The action thriller is leaving no chance to leave the masses impressed and has been creating examples of its success ever since its release. It is reflected in the imitation of Kantara at various cultural events across the country. One such imitation took place at Maati Nature Resort in Sindhudurg, Maharashtra, where the welcome of the New Year 2023 took place with the entry of Kantara. The guests were completely shocked and surprised by his sudden entry as the clock ticked 12 to welcome the New Year.
Commenting on the unique way of welcoming the New Year, Mrs. Sakshi Sawant, Founder of Maati Nature Resort, said, "The New Year is always welcomed and celebrated by playing music and bursting crackers." We at Maati Nature Resort have always tried to do something unique, so we thought of Kantara, which has received such a massive response that it has reached every single house in the country and across the globe. "It is a representation of God, and who will not want blessings from God at the beginning of the year?"
Around 100 guests present at the resort to celebrate the New Year were blessed by Kantara. Sandeep Gawde who performed the role of Kantara was mesmerized by the attire and overall role of Kantara. The unique scene ended the same way as it ended in the movie with Kantara disappearing in the jungle. Maati Nature Resort is first of its kind Nature Tourism Destination built with the concept of mud and wood. Hidden amidst the cashew plantations, sit 3 mud houses, that perfectly represents what Maati stands for – a century-old lifestyle, infused with our signature style of luxurious comfort. The mud houses, which are more or less identical, have been built by a talented family of local Malvanis from nearby villages. To add to their ancient charms, are the wooden artifacts and of course, the traditional village design that adorns their cow dung floor. Along with mud houses, the resort also offers Machan and tent experiences to its guests. In addition to the perfect ambiance, the mouth-watering food cooked on wooden fire and earthen pots take the visitors closer to nature. The property has a beautiful cashew shape swimming pool and a first-of-its-kind open wooden gym that offers relaxing and rejuvenating experiences. Just a 1-hour drive from Sindhudurg airport, the resort offers uninterrupted views of the Konkan nature, as well as a host of enjoyable experiences to try.