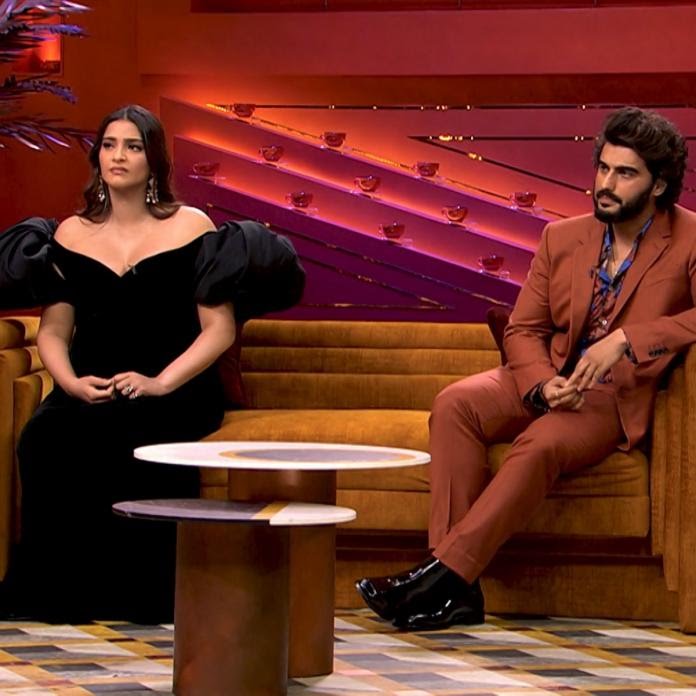 Kofee with Karan 7:6 jaw-dropping revelations by sonam kaprro and Arjun kapoor at Karan Johar's show
On season 7 of Koffee With Karan, Karan Johar is back with a fresh batch of guests. The Kapoor sibling combo Sonam and Arjun Kapoor appeared on the most recent episode of Koffee With Karan. Unbelievable admissions were revealed by upcoming mother Sonam Kapoor and her brother Arjun Kapoor. Sonam made her first on-screen appearance since announcing her pregnancy on the show, and she also made her debut appearance with her brother Arjun. The show was jam-packed with hilarious and enjoyable moments. Sonam was as honest as she always is, but Arjun couldn't help but bemoan the fact that he had been invited to the show solely to be the target of jokes and roasts.
Sonam and Arjun Kapoor made six jaw-dropping relevations on season seven of Koffee With Karan:
1. Sonam Kapoor admitted that her pregnancy was amazing after the first three months, which were a little difficult. It is, however, becoming a little more challenging in the third trimester. I am definitely having fun, she said.
2. Genelia Deshmukh, Sameera Reddy, and Sara Ali Khan all have social media handles that Sonam Kapoor likes.
3. Malaika Arora meeting his dadi, according to Arjun Kapoor, is the final step in bringing their relationship out. He claimed that his grandmother welcomed them and that the situation was quickly resolved.
4. Arjun Kapoor says he is currently not planning a wedding with Malaika Arora because he wants to concentrate on his career. He stated: "Karan, I am a very realistic person. I don't have anything to conceal, and I'm not acting coy as I sit here. I would really like to have a little more stability in my career."
5. Arjun Kapoor admitted Sonam was the reason he was expelled from school because he abused the bully's classmate. Because of her, I received a black eye and was suspended, Arjun claimed.
6. When compared to Sonam, Arjun Kapoor claimed that he is a better actor.