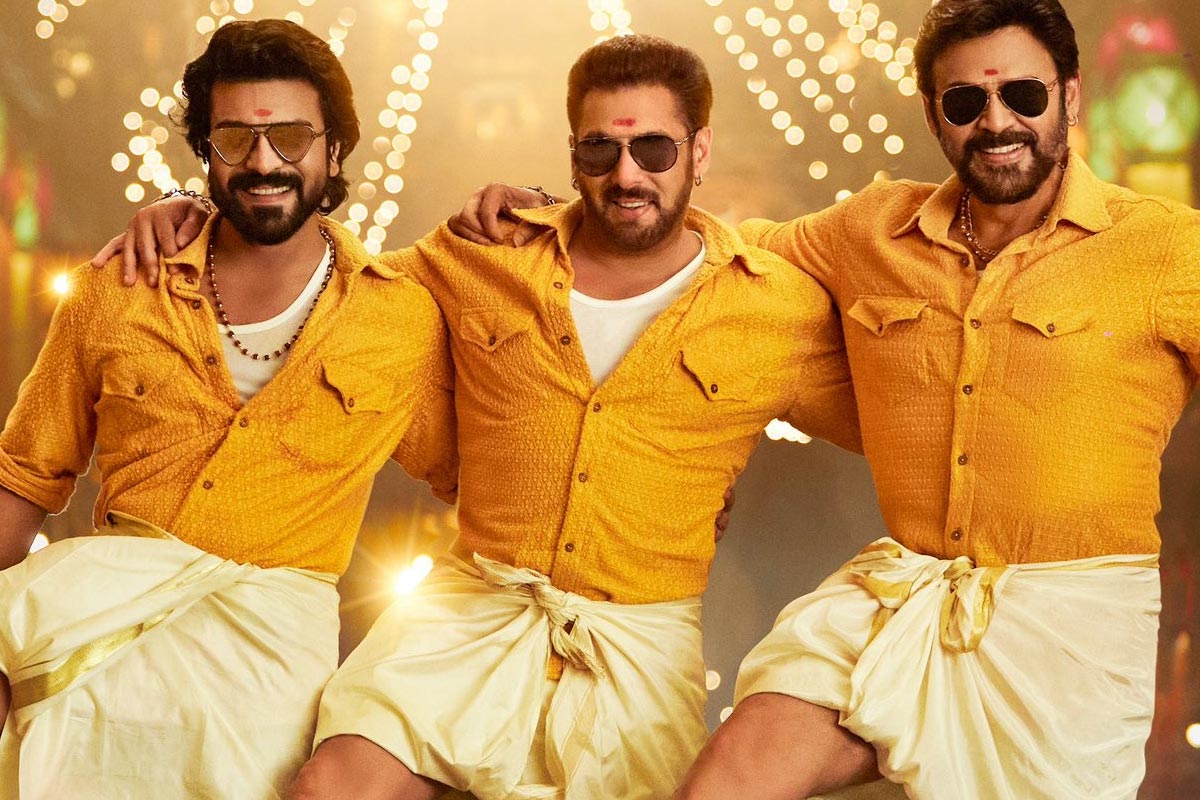 Former cricketer Laxman Sivaramakrishnan has criticised the song Yentamma from Kisi Ka Bhai Kisi Ki Jaan days after its release.
Laxman Sivaramakrishnan, a former cricket player, has criticised the song Yentamma from Kisi Ka Bhai Kisi Ki Jaan. Actors Ram Charan, Venkatesh Daggubati, Pooja Hegde, and Salman Khan are featured in the recently released song. Salman, Ram, and Venkatesh sported vivid yellow shirts and white dhotis in the song. Written by Shabbir Ahmed, the song is performed by Vishal Dadlani and Payal Dev. (Also Read | Fans upset by Salman Khan's overuse of veshti in Yentamma song wonder, "What type of step is?")
Wearing shoes on temple grounds, according to another person, "doesn't deserve grading." Laxman answered, "Nowadays, anything is done for money. Will they not look into what a Lungi and a Dhoti are? Even if it's a set, a temple is projected onto it. No shoes are allowed inside the temple grounds, as those connected to the film should be aware. I'm pleading with @CBFC India to think about outlawing this."
"Sir, our Indian culture is deeply ingrained and will not be corrupted by a Bollywood song," someone once said. That doesn't mean you keep quiet, Laxman retorted. The tweet said, "I wholeheartedly concur with you. This, however, falls under artistic freedom. Many would also say that it's alright." That's because we are willing to consume and compromise, he explained.
One more tweet stated, "Laxman sir, why do these Bollywood films portray South Asian culture so poorly? Someone needs to file a PIL in court because something needs to be done about this." He answered, "Unless South Indians were present, the majority of whom hold the job of Head of Finance in the majority of Corporates in Bombay. They'll battle (sic)."
After the song was released, renowned Tamil critic Prashanth Ranagswamy expressed his disgust with the Lungi step in Tamil on Twitter. "What kind of step is this," he wrote. They refer to Veshti as a lungi. putting their hands into it, then performing some bizarre manoeuvre. The worst (sic). In Tamil, someone wrote, "Very accurate bro. They'll claim that we made a parody of the lungi culture in the south (sic) if we question them.
"Someone should seriously educate Bollywood about the distinction between Lungi and veshti," read another comment. It is customary to wear veshti. It's really offensive to witness these types of offensive dance routines done in traditional clothing. "Bollywood trying so hard to capitalise on the Telugu celebrity… that they still don't grasp Telugus are not Madrasis," a Twitter user wrote. I find the blatant ignorance disturbing.
Based on Ajith Kumar's Tamil hit Veeram, Kisi Ka Bhai Kisi Ki Jaan is helmed by Farhad Samji. Jagapathi Babu, Bhumika Chawla, Vijender Singh, Abhimanyu Singh, Raghav Juyal, Siddharth Nigam, Jassie Gill, Shehnaaz Gill, Palak Tiwari, and Vinali Bhatnagar are among the other actors in the movie. This Eid, the movie is scheduled to open in theatres.