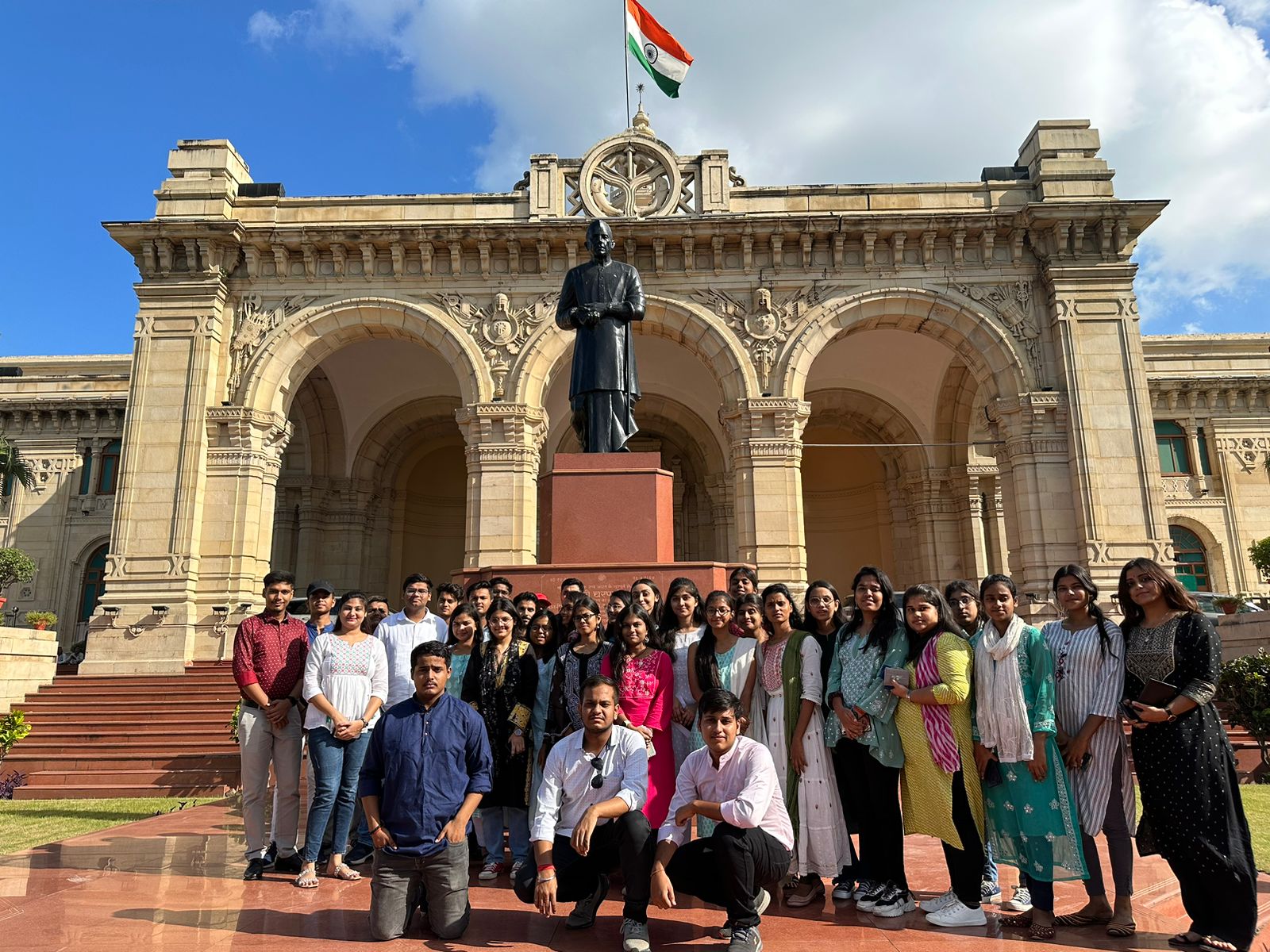 On the 25th of September 2023, LPT Prayagraj took its budding law aspirants on an educational trip to the respected Vidhan Sabha Lucknow. The aim was to make. Visiting the Vidhan Sabha in Lucknow is not only an educational experience but also an opportunity to appreciate the functioning of democracy and governance at the state level in India. It allows you to connect theory with real-world practice, making it a valuable experience for anyone interested in Indian politics.
The foundation stone of the grand building of the Council House (Vidhan Bhawan) in Lucknow was laid by then-Governor Sir Spencer Harcourt Butler on December 15, 1922, and the building was inaugurated on February 21, 1928. On the eve of the previous monsoon session respected CM Yogi Adityanath inaugurated the newly constructed digital corridor at Vidhan Sabha and the renovated gallery on the second floor of the assembly building. For access to the normal public, the CM also launched a website for a guided tour of the assembly and its digital museum so that nor public can also know and understand the enriching history of Indian politics and governance. A guide would be there to walk you through the building and the digital museum and a very detailed session was also held regarding the history and importance of the building.
In the early morning nearly at 06:00 am our student with our abled faculty and excellent staff went off for the trip. The trip was flagged off by our respected guests Mr. K.P Singh Sir (former IG of police, U.P) and Mr. Divakar Rai Sharma (Current President of Rotary Allahabad). We express our gratitude to them as they managed their time from their busy schedule and came for the flag-off. Their best regards have helped us in successfully completing the trip.
LPT Prayagraj has always strived to get engaged with their students as much as possible and apart from regular classroom sessions we decided that we should take our students on an educational trip where they will be refreshed from their regular study schedules and at the same time will also get to know about the legacy that our leaders have built. A complete guided tour and informative session of 2-3 hours was arranged for our students and they have thoroughly enjoyed it while learning too. We would express our heartfelt gratitude towards Mr. Shivam Singh Sir (Review Officer, Vidhaan Sabha Secretariat) who supervised the trip and provided his time and cooperation for the trip. Under the guidance of our Managing Director Mr. Gaurav Virendar Agarwal Sir, we were able to initiate the plan and execute it, as it was his idea to take our students on such an educational trip. With the assistance of our able team, this initiative was a complete success and we are looking forward to more of such initiatives.