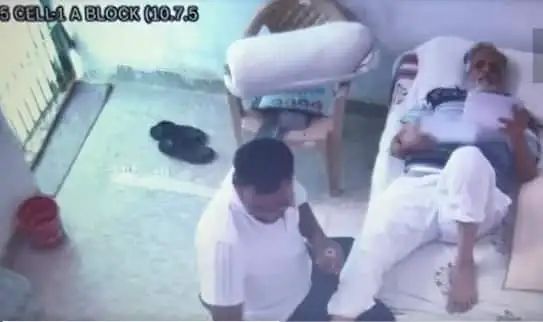 Satyendar Jain, an AAP minister currently serving a prison sentence, is the subject of a brand-new controversy following a report that claims the man who was seen giving the minister a massage is a defendant in a rape case.
Tihar jail sources on Tuesday confirmed that the man seen in the CCTV footage is not a physiotherapist but a prisoner in a rape case charged u/s 6 of POCSO Act & 376, 506 & 509 of IPC. A few days back, CCTV footage was leaked where the jailed minister was seen getting a massage inside Tihar jail. This led to a political slugfest with both BJP and AAP firing salvos at each other.
The Enforcement Directorate detained the 58-year-old Delhi minister on May 30. On the basis of a First Information Report, or FIR, filed by the CBI on August 24, 2017, the investigating agency opened a money-laundering inquiry into the matter.
In the past, the Aam Aadmi Party supported its imprisoned minister Satyendar Jain after a video of him receiving a foot massage inside Tihar Jail went viral. Manish Sisodia, the deputy chief minister, criticised the BJP harshly for releasing this video. Sisodia stated during a press conference, "By using a video of a sick man receiving care inside a jail, the BJP is engaging in petty politics. Along with medications, acupressure is a part of his treatment."
VIP Behavior Is Common at Tihar Prison
Even if this video horrifies viewers, the VIP culture at Delhi's Tihar Jail continues to exist. Recent CCTV footage from November revealed conman Sukesh Chandrashekhar, who is in incarcerated for a multimillion-dollar scheme, enjoying opulent perks. In the footage, he was seen living alone in a sizable barrack that is typically used by numerous prisoners.
He reportedly allegedly had a cellphone, which was covered in bedsheets to prevent cameras from recording illicit activity.