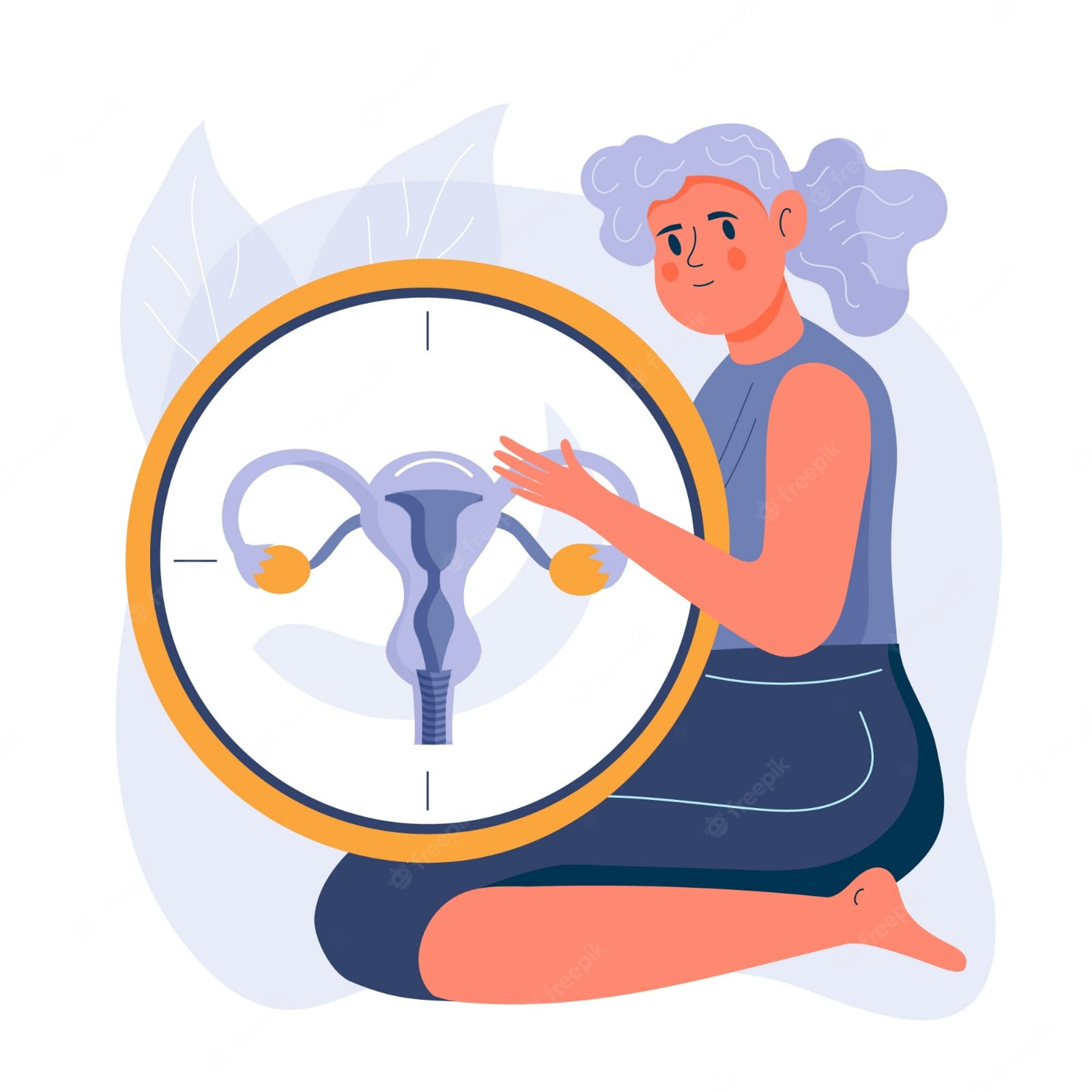 Dr. Jen Gunter, a well known OB-GYN says that menopause is essentially, puberty in reverse. Hormones go down instead of up, the body changes again, mood swings, you name it. It's another wild ride. Due to the lack of awareness and information, many women in midst of midlife go through a confusing experience of physiological and psychological changes and fear that they are going crazy, without learning that they are going through menopause. But this time, you can be prepared by being equipped with the knowledge of menopause.
Menopause occurs when a woman has gone 12 months without a menstrual cycle, in the absence of any surgical procedure or medical condition that may cause bleeding to artificially stop such as hormonal birth control, overactive thyroid, high prolactin, radiation, or surgical removal of the ovaries. Menopause occurs due to the decreasing levels of female hormones, Estrogen and Progesterone, produced by the ovaries. Menopause is the point when a woman no longer has menstrual periods. At this stage, the ovaries have stopped releasing eggs and producing most of their estrogen. Menopause typically occurs between the late 40s to early 50s. According to a PAN India survey, the average age of menopause of an Indian woman is 46.4 years. This time of change can impact a woman physiologically and psychologically. Menopause marks the end of the female reproductive years.
As a woman ages, the reproductive cycle begins to slow down and prepares to stop. The ovaries start to produce decreasing amounts of the hormone estrogen. When this decrease occurs, the menstrual cycle (period) becomes irregular and eventually stops. Physical changes such as weight gain around the abdomen, dryer skin, joint pain and thinning hair occur in the body as the body adjusts to different levels of hormones. Menopause and perimenopause symptoms can have a big impact on your daily life, including relationships, social life, family life and work. It can feel different for everyone. A person may have several symptoms or none.
Symptoms usually start 8 to 10 years before the menstrual periods stop. This is called perimenopause.
Perimenopause begins when ovaries gradually produce less estrogen. It usually starts when the person is in their 40s. Perimenopause lasts up until menopause, the point when the ovaries stop releasing eggs. In the last one to two years of perimenopause, the drop in estrogen accelerates. At this stage, many people may experience menopause symptoms. But menstrual cycles still occur during this time and it is possible to get pregnant.
Symptoms leading up to perimenopause include irregularity in periods, hot or cold flashes (when you have sudden feelings of intense heat or cold in your face, neck and chest which can make you dizzy), difficulty sleeping (insomnia), an urgency to urinate, vaginal dryness, dry skin, eyes and lips, emotional changes (irritability, mood swings, mild depression).
Hot flashes can be triggered by several things like caffeine, spicy food, heat, smoke or alcohol to name a few. It is important to note that hot flashes are different for all menopausal women, varying in intensity or duration and it can be triggered by different things.
People who are still in the menopause transition (perimenopause) may also experience: breast tenderness, worsening of premenstrual syndrome (PMS), irregular periods or skipping periods, periods that are heavier or lighter than usual.
People may also experience racing heart, headaches, joint and muscle aches and pains, difficulty concentrating, memory lapses (often temporary), weight gain, slowed metabolism and hair loss or hair thinning.
Symptoms can last for months or years and can change over time. For example, hot flashes and night sweats may improve but the person may develop low mood and anxiety. Some symptoms such as joint pain or vaginal dryness can carry on after periods stop.
After menopause, women are more liable to cardiovascular diseases, osteoporosis, urinary incontinence, and UTIs because of hormonal changes. With the recognition of the risks and causes and proper preventive care, these diseases can be prevented.
What can a person do to make menopause a smoother transition?
Quit smoking; reduces the risk of heart disease
Reduce stress in life, try getting enough sleep, and meditate.
Eat a rich, healthy balanced diet that is rich in Calcium and Vitamin D for healthy bones.
Add estrogen rich foods to your diet such as flax seeds, chickpeas, legumes (daal), sesame seeds, and dried apricots. Dark chocolate also contains some amounts of phytoestrogen (plant-based estrogen) which you can eat occasionally too!
Get at least 150 min of exercise per week. Focus on weight-bearing exercises like hiking, dancing, walking, jogging etc.
Talk to your friends, family or other women who are experiencing what you are.
Supporting A Menopausal Family Member
Communication is the key to show support. Talking and listening will help them deal with menopause, feeling loved and taken care of.
Believe them, this can be a trying time, so if your wife or mother says she is doing the best she can, believe it. Sometimes women feel fragile and hardly know themselves during the menopause years.
Offer to help with the daily chores or any task will ease the pressure and constant feeling of lethargy. This can keep them from feeling overwhelmed.
Physical symptoms during menopause can be drastic and self-confidence can take a hit. Skin and hair changes, weight gain and incontinence may make it difficult for women to be their striking selves. Constant reminders of their worth and importance will help build confidence and self-worth.
There is a need to increase knowledge about menopause and its impact on menopausal women, their work, families, health and life. We must acknowledge that menopause is a natural part of aging. By openly talking about menopause, and raising awareness solutions may be found to challenges faced by menopausal women, and more acceptance may be brought about. It should be emphasized that menopause is a positive step in a woman's life, it is the beginning of the postreproductive phase of her life, when she may pursue a new career, education, or vocation.