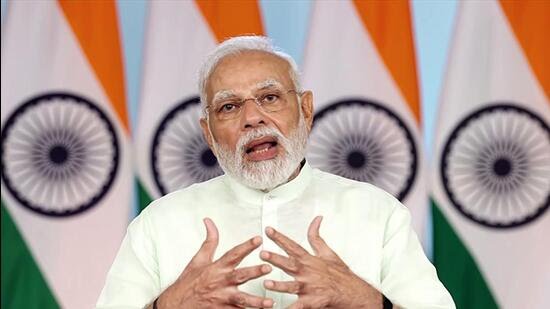 The 36th National Games' opening ceremony will be attended by Prime Minister Narendra Modi on Thursday.
On his two-day visit to Gujarat, Prime Minister Narendra Modi will launch and lay the cornerstone for initiatives valued at than $29,000 crore in Surat, Bhavnagar, Ahmedabad, and Ambaji. On Thursday, he will also be present for the 36th National Games' opening ceremony.
He will Inaugurate the first stage of a metro rail project in Ahmedabad. He will lay the cornerstones for and dedicate more than 3,400 crore worth of projects in Surat, including those for the city's biodiversity park, Diamond Research and Mercantile City, and water supply. Additionally, Khoj Museum in Surat's Science Center will be opened by Modi.
He will dedicate the World's First CNG Terminal in Bhavnagar, which will be built at a cost of more than Rs. 4,000 crore.
On Friday, Modi will inaugurate the Gandhinagar-Mumbai Vande Bharat Express in Gandhinagar. He will also attend the Navratri celebrations in Ahmedabad. He will board the train at Ahmedabad's Kalupur Railway Station.
Elections in Gujarat are scheduled for this year. With a focus on health and education, the Aam Aadmi Party has been attempting to gain ground in the state.