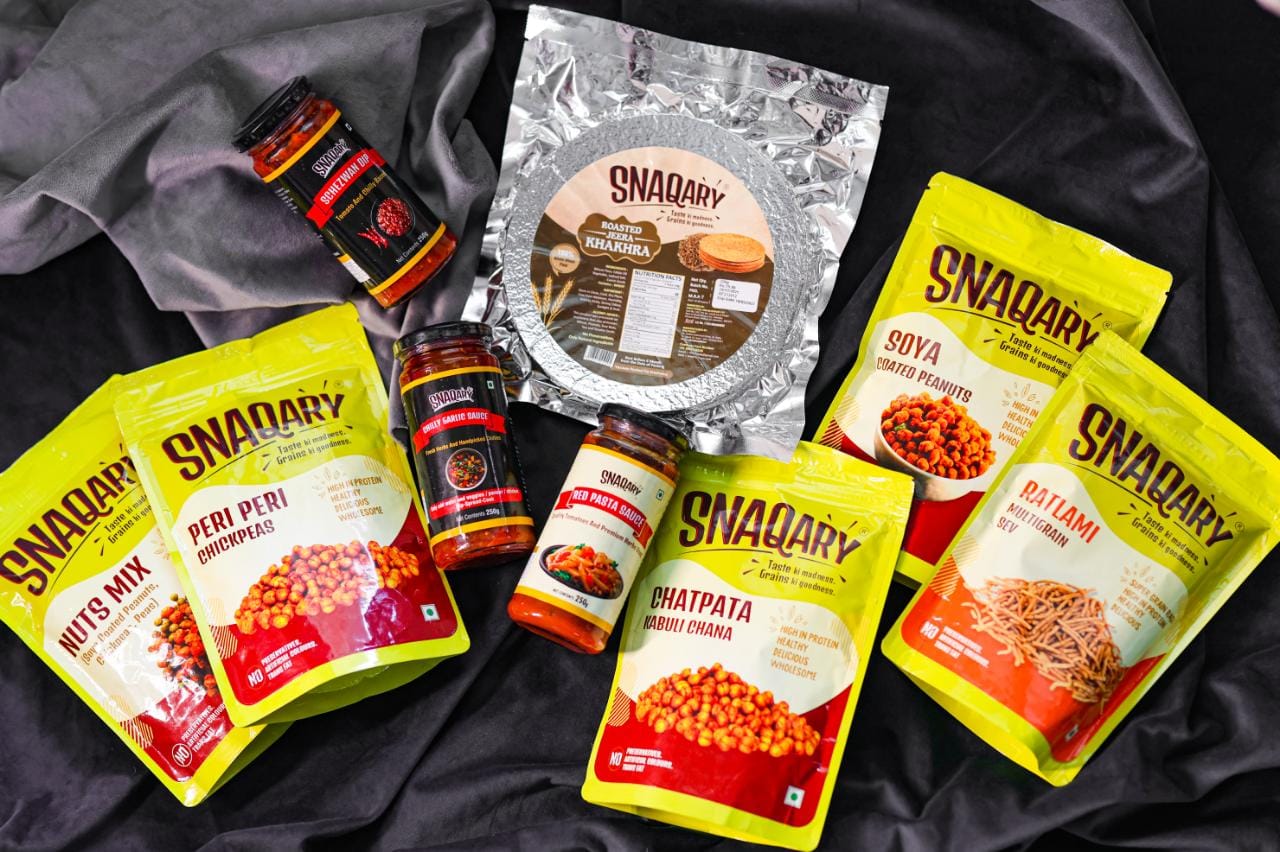 "Although we all agree that "health is wealth,"very few of us truly strive to get it.
But since the onset of COVID, everyone is aware that our health is the only possession we have that will last forever.
We all know it's really hard to get over it, so we all have our cheat days. The first thing we need to change for a healthy lifestyle is our diet, especially to control our hunger issues.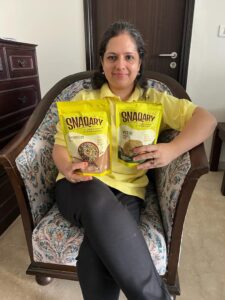 And what better approach to quell our appetite than with a nutritious snack. This is the main goal of Anchal Abrol and Priya Puri's venture SNAQARY.
Snaqary is a company that offers a variety of multigrain plant-based foods that appeal to consumers of all ages. Snaqary, which stands for "Taste Bhi, Health Bhi," is a revolution in the snack sector.
Being a mother, they were constantly concerned about the health of their family and children. They always wanted to provide them foods that were free of trans fats and preservatives.
They constantly struggled with the issue of what to feed their families for snacks that should not only be tasty but also low in trans fats and preservatives. To solve this issue, they developed their own healthy brand called "Snaqary."
Anchal in her own words, "Though there were brands that offered healthy snacks, we couldn't find a good range of products for people to choose from. So, we decided that our brand would offer more varieties of healthy munchies using traditional ingredients, without compromising on taste".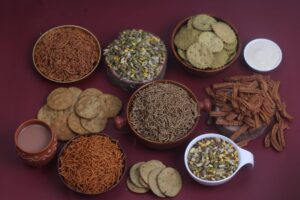 Having worked in an corporate gifting business Anchal further said, "The business was built based on a single thought we had while we were contemplating starting the snacks business,".
Snaqary basically focuses on snacks which are not only healthy as it contains all the traditional ingredients and natural flavours but they are also preservative free.
Today, Snaqary provides nearly 35 items to 50,000 consumers across the nation.
Anchal claims that the idea was inspired by her grandmother, who constantly encouraged her to prepare nutritious cuisine by including traditional grains in everything they made, whether it was a samosa or a kachori.
Anchal and Priya are successfully managing their healthy brand by advancing the ideas of their grandma.
The Enthusiastic attempt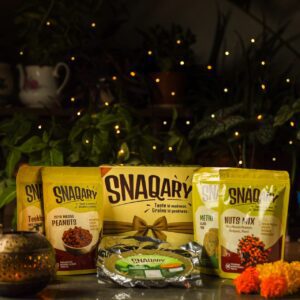 The  journey towards healthy snacks started in 2019 with the idea and motive of creating a brand which not only woes the snacks cravings but also serves the purpose of being healthy at the same time.
Snaqary had its start in Mumbai with the marketers forming partnerships with companies who shared their enthusiasm for healthy food.
Anchal and Priya developed healthy products such as baked snacks, crispy sev,multigrain sticks and puris, khakhras, and nut and seed mixes.
"The first step towards starting a snacks business is to come up with the right menu of products", says Anchal.
Talking about how their enterpreneur journey has started Anchal told Newsnownation that they were curating recipes for the brand with the help of vendors who were well-experienced in making traditional snacks. It almost took  around a year to bring the products into the market.
"Recipe curation is usually easy, but it was difficult for us because we had to come up with a formula that works out well for commercial production", Says Mompreneur .
Through 800 offline stores and 500 vending machines, Snaqary has increased sales over the past 15 months to Pune, Hyderabad, and the Delhi-NCR region. Additionally, products can be purchased online via Big Basket and Amazon.
We created snacks using natural, plant-based, and conventional components. We offer a variety of products, including traditional, baked snacks, roasted snacks, sauces and dips, puris, sev, sticks, and seeds, according to Anchal.
Challenges on the way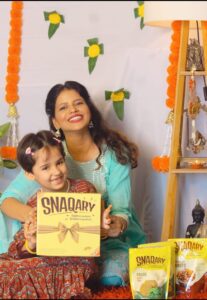 "Nobody was prepared to collaborate with us as a startup. But eventually, after searching for a long time, we located some of Mumbai's top snack merchants. They share our passion and have assisted us in developing our items without sacrificing their quality", Shares the founder.
The recipes went via an entire lot of trial and error. They began out with Bajra puris in more than one flavours like spinach, fenugreek, and cream and onion.
They also improvised classic treats like bakarwadi in a similar manner. According to Anchal, they have incorporated healthy alternatives to the greatest extent possible to produce the best version of these traditional snacks. "Instead of making it with maida, we use 60% whole wheat flour, and we bake it instead of frying," she says.
The products had been experimented with multigrain sev, simply to provide clients some thing aside from the identical traditional sev made from chickpea flour.
To date, these are some of the Snaqary bestselling products.
Very soon Anchal and Priya realised that the product become too tough and they need to remodel it.
They began bringing Snaqary products to exhibitions to solicit feedback from visitors, and they still do so today.
Children and senior citizens are some of our finest customers. The items from Snaqary are made to be family treats, according to Anchal, who also claims that they always provide honest feedback.
Experimenting the conventional to modern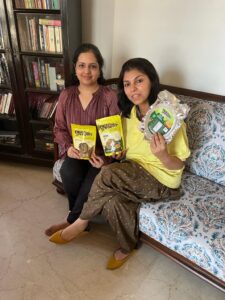 While telling more about how the product is serving healthy snacks , Anchal said, "For our puris, bajra flour serves as the foundation rather than wheat flour. To improve the flavour, we also include various spices and greens like methi and palak".
She continues "even though maida is used to tie the puri together, bajra still makes up the majority of the puri's composition".
Another common snack ,the two made modifications was puri's made with maida or wheat flour to make them healthier. They developed ready-to-eat Bajra (pearl millet) puris in four distinct flavours: methi, palak, peri peri, and cream and onion.
Other than the use of conventional ingredients, Anchal says that every product on their merchandise are preservative-free and featured zero trans fat.
"Incredibly positive feedback is coming from Siliguri, Kolkata, and the entire eastern region of India after our recent debut in Kolkata." The founder shares.
Anchal, who formerly managed a printing firm for 11 years, adds, "We have recently found space of the shelves of Reliance Seven 11 stores. Apart from that we are present in around 800 retail stores across Mumbai, Pune and Hyderabad. We have been selected by Swiggy handpick service.
"We package our items in such manner that they have an eight to nine month shelf life for export and five to six months for the domestic market, as per Anchal.
They are currently prepared to export the goods to Bhutan.
Other snacks provided by Snaqary include multigrain sticks, roasted seeds, baked biscotti, soy-coated peanuts, roasted khakhra, roasted chickpeas, etc. The cost of the product is between Rs.10 and Rs. 200.
Research and Development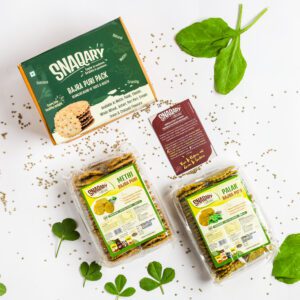 The global snack industry was estimated to be worth $1,450.4 billion in 2021 by market research firm Grand View Research, and it is projected to rise at a CAGR of 2.7% from 2022 to 2030.
A file through the company stated "growing fitness issues globally, and moving existence and nutritional styles have fuelled call for for numerous snacking options".
According to a report by the company, "evolving lifestyles and dietary patterns, as well as rising health concerns around the world, have fueled demand for a variety of snacking options."
There have been many companies in the healthy snack market in recent years, but according to Anchal, their USP is based on three key elements.
First off, the primary component of all of our goods is traditional grain.
Second, while we agree that diets high in protein are important, we also think the ideal strategy is to follow a balanced diet.
And finally, oil is widely mishandled on the market. The suppliers we work with are aware of this and ensure that there is no room for complaints, according to Anchal, who has also made sure that a variety of baked goods are available for those who choose to avoid the oil.
Shrishti Singh, a 31-year-old bank employee from Mumbai, claims that Snaqary is one of her favourite companies for healthy snacks. "I have been buying from them for the past year, and they have a great selection of healthier options for snacks. Although I adore their chickpeas and peanuts, their baked bakarwadi is my favourite. The fact that they don't include preservatives and are of excellent quality is the finest feature about their products.
When discussing obstacles, Anchal reveals that locating manufacturing suppliers was one of the biggest problems they encountered when launching their company.
The two-year-old firm, which is self-funded, has amassed over 50,000 consumers through its retail and online products.
"We have increased our sales outside of Mumbai to places like Pune, Delhi, Hyderabad, and Kolkata. In addition to our website, e-commerce sites like Amazon, Big Basket, and others carry our products, she adds.
 Future Goals and Dreams
Snaqary has amassed a database of over 50,000 clients in less than two years, mostly using the offline strategy.
Now, Anchal and Priya want to increase their geographic reach, strengthen their internet presence, offer at least 15 additional types of snacks, and offer beverages.
But getting there hasn't exactly been simple. "Whether it was handling financial flow or hiring the proper people, there have been difficulties every day. From suppliers to employees, nobody would want to cooperate with us at first", Anchal Shared.
Other issues that needed to be resolved were determining an appropriate pricing point and the proper product-market fit. "We took care to do research with customers and retailers. Participating in exhibitions to obtain direct client feedback was also beneficial, according to Anchal.
Sky is the limit
"We absolutely need funding at the rate we're growing. We also require investors, who will most likely assist us in expanding our network and advising us on scaling." Says Anchal
Snaqary, which began as a two-person company with one warehouse, now has 12 workers working for them (five in backend operations and seven in frontend sales), and they have two warehouses and one office in Mumbai's Andheri district.
As the founders shares , "Being self-funded, we are a women-led business. Our company promotes the purchase of tastier and healthier goods, thereby assisting each customer in selecting snacks that satisfy the needs of every member of their home. Each impulsive snack customer can be satisfied by our products because they have both a mass and a luxury appeal."
ENJOY EVERY BITE WHILE YOU SNACK RIGHT WITH SNAQARY ANYTIME
Snaqary is committed to providing more than just food. Snaqary doesn't waste any time in creating an enjoyable snacking experience for you. Delectable flavours will uplift your spirits, and nourishing ingredients will uplift your energy.
Enjoy the aromas and value of the traditional ingredients as you savour a blend of healthful multigrain and mouthwatering flavours from the grain field to your snack bowl.
There is just one thing you will say Taste Ke madness and Grains ke Goodness, when you choose a genuine Indian snack selection like Puri's, Sev, nuts mix, or soya peanuts from our "Classic" line, seeds, and khakhra from our "Roasted" range, or delight in delectable baked goods and sauces.
"Starting a business is difficult and can occasionally be isolating, but it is worth "fighting for." "Never let your self-assurance waver. It's acceptable to fail, but moving forward is more vital. Concluded Anchal.