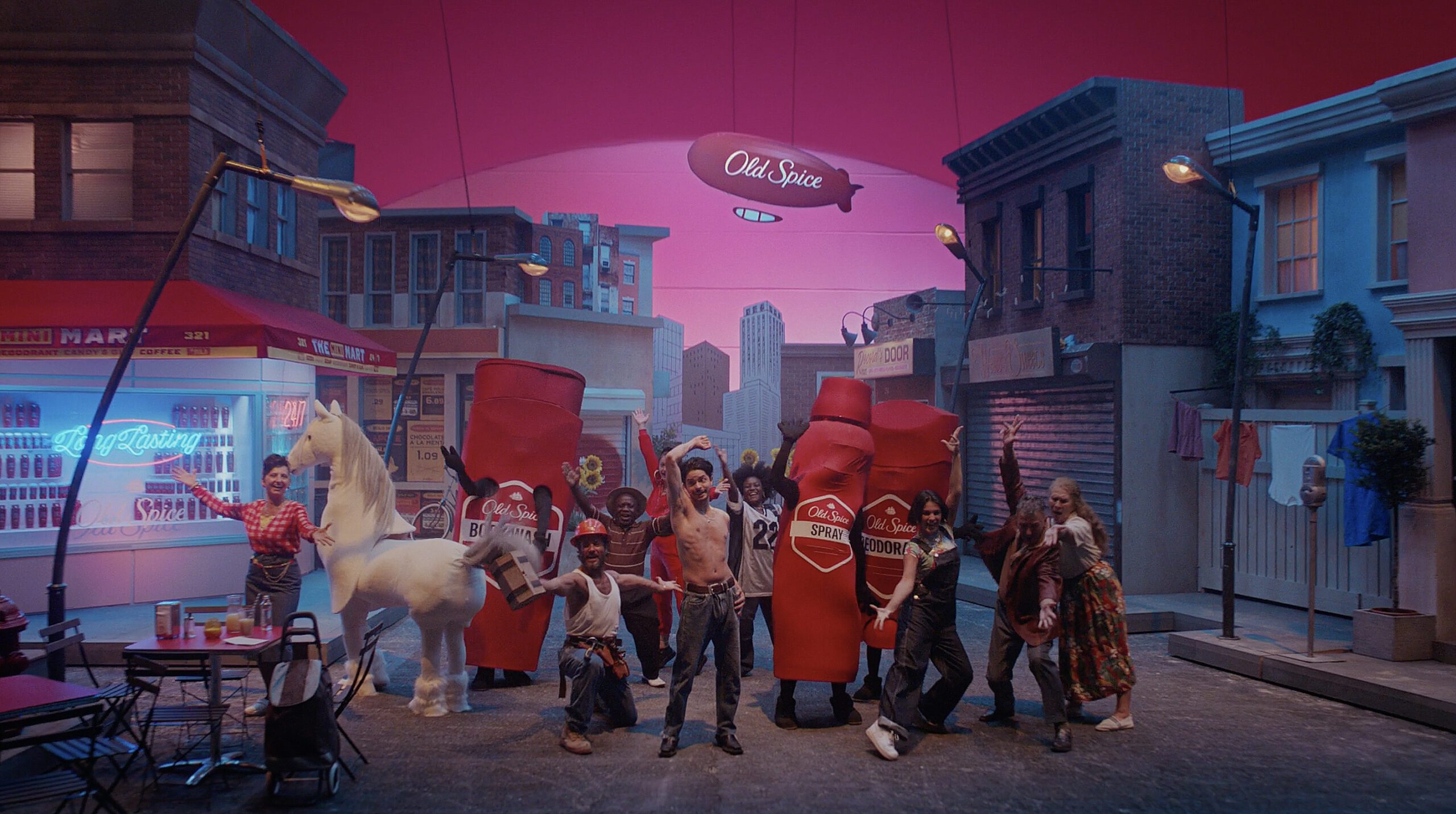 The Campaign Kicks Off During Super Bowl LVII Festivities with its First-Ever Old Spice Mascot
CINCINNATI–(BUSINESS WIRE)– Old Spice is pulling back the curtain on its new Smelf-Confidence campaign with two musical theater-inspired ad spots. The campaign continues to tell the story of how Old Spice gives guys confidence under the spotlight, with freshness all day and swagger all night. Highlighted in the spots is Swaggy Spice, the brand's first-ever Old Spice mascot, who will make his debut this week at Super Bowl LVII Opening Night.
BO (body odor) is a BIG fear of many men. Procter & Gamble research shows men shower 2x more, apply deodorant 30% more frequently, and are 30% more likely to experience malodor than women. The Smelf-Confidence campaign highlights the everyday challenges guys must overcome while effortlessly avoiding the pitfalls of BO. Fortunately, the Old Spice Swagger collection provides 24/7 long-lasting freshness*.
"Old Spice wants guys everywhere to feel confident when under the spotlight," said Matt Krehbiel, Old Spice's Vice President at Procter & Gamble. "This new campaign is inspired by the insight that we can usually count on others to tell us if something is out of place. Maybe we have something in our teeth, or a spot on our shirt, but no one will tell us if we smell, leaving us wondering in those make-or-break moments, 'do I smell right now?' If you can't be confident that others will tell you that you smell bad, then you need to be really confident in your grooming products."
Created by Wieden + Kennedy (Portland), the Broadway-inspired ad spots feature Manuel Pacific (Terminator: Dark Fate, Ride).A Colombian-born actor, Manuel is no stranger to the spotlight, performing on international stages since the age of 7. The first spot, "Soliloquy," will begin airing on national television along with YouTube, Vevo, TikTok, and Reddit. The second spot, "Tango," will premiere later this spring.
Make Room for Swaggy Spice, Old Spice's First-Ever Mascot
Speaking of keeping it cool and fresh under the spotlight, Old Spice is introducing the freshest, campaign-inspired mascot, Swaggy Spice. Mascots have to do it all – dance, dunk and make us laugh – all while under the spotlight of thousands of fans. However, what people don't realize is mascots can sweat up to 10 pounds per game, making them the stinkiest thing in the stadium. What better way to pressure test Old Spice Swagger's 24/7 long-lasting freshness than in one of the sweatiest conditions – a mascot costume in Phoenix? Decked out in stylish accessories, Swaggy Spice will deliver the same odor/sweat protection to the masses at one of the most stressful, high-intensity events of the year, the Super Bowl.
"It's a real honor to become THE most famous deodorant stick of all time and spread the word about my 24/7 long-lasting freshness," said Swaggy Spice, the official mascot of Old Spice. "I always had big dreams thanks to my confidence-inducing fragrance and odor protection but never expected to reach the pinnacle of deodorant stardom with Old Spice. Shout out to my good-smelling friends and family who believed in me as a young deodorant stick with one dream…to deliver Smelf-Confidence to guys everywhere."
During his surprise appearances this week, Swaggy Spice will hand out samples, engage fans around Phoenix, and walk the Super Bowl LVII red carpets with celebrity handlers.
Old Spice Swagger Lineup
Old Spice Swagger lineup is back with newly-designed packaging and the famed Old Spice odor and sweat fighting technology that gives 24/7 freshness to those who use it every day. With Swagger, guys will have the confidence to keep cool at all times no matter what challenges life throws at them.
Old Spice provides freshness all day, swagger all night with a classic masculine fragrance featuring bright citrus and fresh fruity top notes on a clean base of woods and musks. It is now available in body wash, deodorant and antiperspirant dry spray.
Products in the Old Spice Swagger lineup include:
Swagger Body Wash: Remove dirt, oil, and odor causing bacteria without drying the skin to feel confident with that all day shower clean feel.
Swagger Deodorant: A clear, smooth application that immediately fights odor causing bacteria with 24/7 lasting odor protection with daily use
Swagger Antiperspirant Dry Spray: A dry and invisible weightless formula with 24/7 sweat and odor protection with daily use
Swagger Hand & Body Lotion: Fast-acting 24-hour formula provides all-day skin hydration