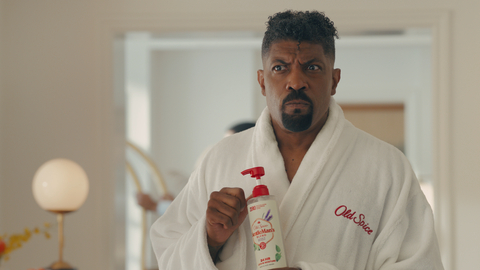 New Third Chapter Introduces La La Anthony and Ross Butler into the Family Drama to Show that Old Spice Gentleman's Blend Gives You Skin Worth Standing Up For
CINCINNATI–(BUSINESS WIRE)– Old Spice debuts the third chapter of the award-winning "Men Have Skin Too" campaign with an evolution of the storyline featuring Deon Cole and Gabrielle Dennis. Alongside the couple is a new cameo from actress, producer, philanthropist, and entrepreneur La La Anthony. The "Men Have Skin Too" series emphasizes diversity and inclusion as interdependent in the creative process. The new chapter follows another recently released spot starring actor Ross Butler.
Since launching in 2019, "Men Have Skin Too" elevates deep insights and relatable drama as Deon confidently protects his Old Spice products. The latest spots show the social awkwardness that ensues when a private disagreement becomes public, especially when the concern is his esteemed grooming products. In the spot, Deon marches through a hotel to confront Gabby and her friends, including La La Anthony, at brunch, who used the last of his GentleMan's Blend Body Wash with Lavender and Mint. Directing the spot is Dime Davis (A Black Lady Sketch Show, Boomerang), who delivers a unique perspective to bring to life this third chapter of Deon and Gabrielle's characters.
Old Spice also introduced another spot called "Finer Things" featuring Ross Butler (13 Reasons Why, Riverdale, To All the Boys Always And Forever, Shazam!). The spot leans into "Men Have Skin Too" while depicting a more traditional Asian cultural point of view to resonate with Asian audiences. Research shows that two-thirds of Asians think there is not enough representation on TV. In addition, one-half feel that the portrayal of their identity is inaccurate. To embrace Asian American culture, Old Spice partnered with Plan C Agency, an Asian American marketing and communications agency.
The spot depicts an involved mother obsessed with her son enjoying the "finer" things in life and marriage. The mother attributes Ross' impossibly smooth skin to his Gentleman's Blend with Lavender and Mint body wash, which leads her to try it for herself. Ross confronts his wife, who he thinks used the last of his Gentleman's Blend Body Wash with Lavender and Mint, only to realize it was his mother. The "Finer Things" spot was written and directed by Creative Director and filmmaker Clayton Tony Au. Clayton's work in narrative films and commercials often showcases the uniqueness of the Asian American experience.
Off the screen, Old Spice continues to craft science-backed formulas that delight multicultural consumers with products that look and feel superior. We continue to hear from multicultural men that they crave a body wash that not only cleanses but leaves their skin feeling moisturized throughout the day. This insight led Old Spice to formulate Gentleman's Blend body washes with premium ingredients like petrolatum, the #1 dermatologist-recommended moisturizing ingredient. These ingredients provide all-day moisture to combat dry skin. In addition, the expert blends of light, gender-neutral scents like lavender and mint paired with a rich, creamy lather from a gentle formula create an elevated in-shower experience.
The Skin Health Alliance, a global organization of independent dermatologists and skin scientists that assess the research and development behind various products, endorses Old Spice Gentleman's Blend. With many options available in the market, the Skin Health Alliance supporting the Gentleman's Blend lineup as safe and effective helps consumers know what's good for their skin and confidently make the best choice for their skincare needs.
"For as long as I can remember, Old Spice body washes and deodorants have been a staple for the men in my family," said La La Anthony. "I am proud to partner with Old Spice for their' Men Have Skin Too' campaign and excited to be included in one of their famously funny commercials."
"Working with companies and brands that put diversity and inclusion at the forefront of all that they do is so important to me," Anthony continued. "I am honored to be a part of this campaign that highlights incredible Black talent and culture."
"Bringing together iconic cultural influences with relatable insights makes this campaign something that consumers want to talk about with friends," said Matt Krehbiel, Old Spice vice president at Procter & Gamble. "We combine that approach with ensuring consumers have the best body care products by crafting skincare-inspired formulas that help elevate their self-care regimen."
Men Have Skin Too – The Sequel
Created by Wieden + Kennedy (Portland), the campaign launches with "Brunch" featuring La La Anthony debuting on national television and the Old Spice YouTube Channel on October 6. The campaign will continue in 2023 with an additional spot also featuring La La Anthony titled "Family Reunion" that showcases another hilarious moment of Gabrielle and others "borrowing" Deon's beloved Old Spice.
The "Men Have Skin Too" universe gets flipped on its head with a "Men Have Hair Too" spot titled "Cold" that shows Gabrielle hilariously swiping Deon's Old Spice Moisturizing 2-in-1 Shampoo & Conditioner mid-shower.
Fans can follow the integrated campaign across social media at #MenHaveSkinToo and #MenHaveHairToo.
Old Spice GentleMan's Blend Lineup
For far too long, men's grooming products have provided insufficient ingredients and benefits compared to women's products. Fortunately, Old Spice's GentleMan's Blend lineup delivers body washes and deodorants crafted to be gentle on skin. Featuring a revamped formula with supercharged odor fighters and moisturizers, these products are crafted without aluminum, dyes and parabens.
Products in the GentleMan's Blend lineup include:
GentleMan's Blend Body Wash: Formulated with premium ingredients to be gentle on skin including petrolatum, the #1 dermatologist-recommended moisturizing ingredient to lock in moisture for 24 hours and pro-glycerin moisturizing skin up to 10 surface layers deep.
GentleMan's Blend Deodorant: Features 48-hour mineral-fortified odor protection that combines five hard working odor fighting ingredients with refreshing new scent combinations for long-lasting freshness.
GentleMan's Blend Shampoo & 2-in-1s: Highlighting some of nature's most desired ingredients like apricot kernel, coconut oil and eucalyptus these 2-in-1s are designed to be tough on dirt and gentle on hair without harsh ingredients like sulfates, parabens, and dyes.
For more information on the full GentleMan's Blend lineup, visit https://oldspice.com
ABOUT OLD SPICE
Procter & Gamble's Old Spice is the quintessential grooming brand. With more than 80 years as an American icon, Old Spice is the authority on grooming experience and has leveraged this heritage to become the No.1 selling anti-perspirant and deodorant brand for guys in the United States. Old Spice offers a complete product portfolio for today's evolving needs, including anti-perspirants, deodorants, body washes, body sprays, shampoos and hair stylers. Check Old Spice out at www.oldspice.com, Facebook (http://www.facebook.com/OldSpice), Twitter (@OldSpice) and Instagram (@oldspice).
Ian Rapport, Citizen Relations
[email protected]
Juwan Thompson, Procter & Gamble
[email protected]