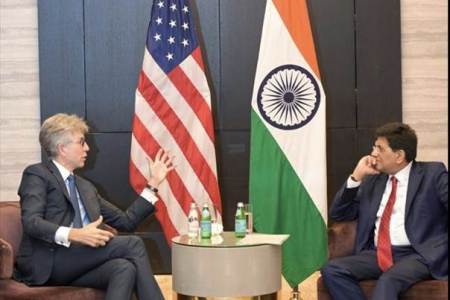 Piyush Goyal, the Union Minister for Commerce and Industry, Consumer Affairs, Food and Public Distribution, and Textiles, met with venture capitalists on Wednesday and urged them to forge closer ties and more collaborative alliances with the thriving Indian startup community in the San Francisco Bay Area.
"Had a stimulating discussion with venture capitalists in the San Francisco Bay Area. The Minister tweeted about the meeting and "encouraged them for deeper interactions and bigger ties with the thriving Indian entrepreneurial ecosystem. He also urged them to think about mentoring early-stage Indian entrepreneurs in order to assist them in growing and succeeding.
The minister had earlier in the day spoken to the Stanford Graduate School of Business's faculty and students. Additionally, he went to a gathering of the Indian community that the consulate sponsored in collaboration with TiE Silicon Valley, IIT Start-ups, and the Indian Community Centre.
Later in the day, when speaking with the media, Goyal noted that the Bay region is really optimistic about the future of India and Indian firms and start-ups. Additionally, they anticipate enormous opportunity in India's 1.3 billion-person market.
He spoke into detail about the various measures the government had taken to enhance mentoring, including the Self Employment and Talent Utilization (SETU) programme and other programmes for upskilling and transformation. The Start-up Advisory Council is in charge of focusing on mentorship in tier 2 and tier 3 cities.
The Minister noted that the world has been battling issues in the field of cyber security and referred to his meeting with the CEO of the cyber security firm Zscaler. He stated that the government had been making significant efforts to secure India's cyberspace and added that collaborations with Bay Area cyber security firms would accelerate the project's success.
In response to a question regarding India's semiconductor policy, Goyal stated that the country had created one months prior and provided highly lenient incentives for businesses to establish factories and manufacture semiconductors there. A strong ecosystem and several SC chain components are already in place. Numerous businesses with whom we are in contact have expressed a strong interest in making investments in India, he continued.
In response to inquiries, Shri Goyal further emphasised the importance of promoting Indian goods internationally, particularly those covered by the One District One Program (ODOP) scheme. The Minister listed our initiatives to enhance ODOP product packaging, noting that prestigious institutes like the National Institute of Design (NID), National Institute of Fashion Technology (NIFT), etc. were enlisted to enhance the appearance and feel of packaging.