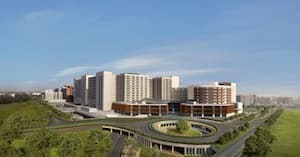 On Friday, Indian Prime Minister Narendra Modi will inaugurate the 2,400-bed Amrita Hospital in Faridabad, Haryana, which bills itself as the country's largest private hospital. The super-specialty hospital will have the newest medical technology.
The hospital, which is being built at an estimated cost of 6,000 crore, would offer cutting-edge medical facilities to the residents of Faridabad and the entire NCR, according to a statement from the Prime Minister's Office.
The opening of the Homi Bhabha Cancer Hospital & Research Center at Mullanpur in New Chandigarh will also take place in Mohali, according to Prime Minister Modi.
The Prime Minister will dedicate "Homi Bhabha Cancer Hospital & Research Center" to the Nation at Mullanpur, New Chandigarh, Sahibzada Ajit Singh Nagar District in an effort to deliver top-notch cancer care to residents of Punjab and neighbouring states and UTs (Mohali). According to the PMO statement, Tata Memorial Centre, an aided institution under the Department of Atomic Energy, Government of India, spent more than Rs. 660 Crore to construct the hospital.
The cancer hospital is a 300-bed tertiary care facility with modern amenities for the treatment of all cancer kinds utilising every available technique, including surgery, radiotherapy, and medical oncology, which includes chemotherapy, immunotherapy, and bone marrow transplant.
The 100-bed hospital in Sangrur will serve as its "spoke," with the hospital serving as the "centre" of the area's cancer care and treatment.