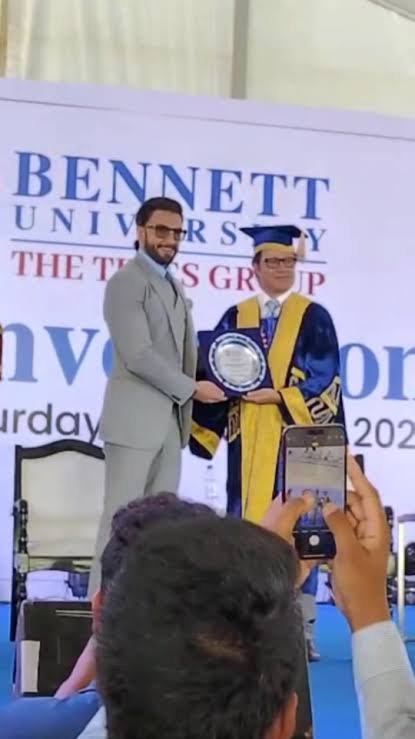 Ranveer Singh may be buzzing on and off screen, but despite his mercurial and off-kilter personality, he is a role model for millions of young Indians, too.
Building on his aura, Ranveer today interacted with students of Bennett University in Delhi, entertaining the young minds with his wit and witticism. He was accompanied by the Managing Director of Times Group and Chancellor of Bennett University, Vineet Jain.
Addressing the students, Ranveer said, "Don't let anyone tell you what you can and what you cant do. You can be anything that you want to be." He further tried to inspire the young minds by saying, "If you are truly passionate about something nothing can stop you from excelling at doing it."
Emphasizing the privilege and importance of good education, he added, "You have been empowered by brilliant education, now use the power of that education and shape your own destiny. Above all be kind and compassionate people no matter what."
At the beginning of his speech, Ranveer made the students and other attendees, clap and tap and sing to We Will Rock You. He then added, "People are always talking about me, the way I dress and all.
It's very easy to be mean to someone nowdays and people are judgmental towards other people on social media, too. Since everyone is on social media and the internet all the time, you guys are rapidly evolving human beings, far more than me and my generation. That's because you guys have nonstop access to internet and information. Thanks to the internet, the world has become a more connected place."
Relying on his candour, Ranveer confessed, "This is my first convocation in this capacity so dont really know how to behave here with these students. Actually, I dont know how to behave anywhere at all."
After the convocation proceedings, Ranveer then joined the students and attendees on a stage outside, where he danced with a few students on Khalibali from Padmaavat.