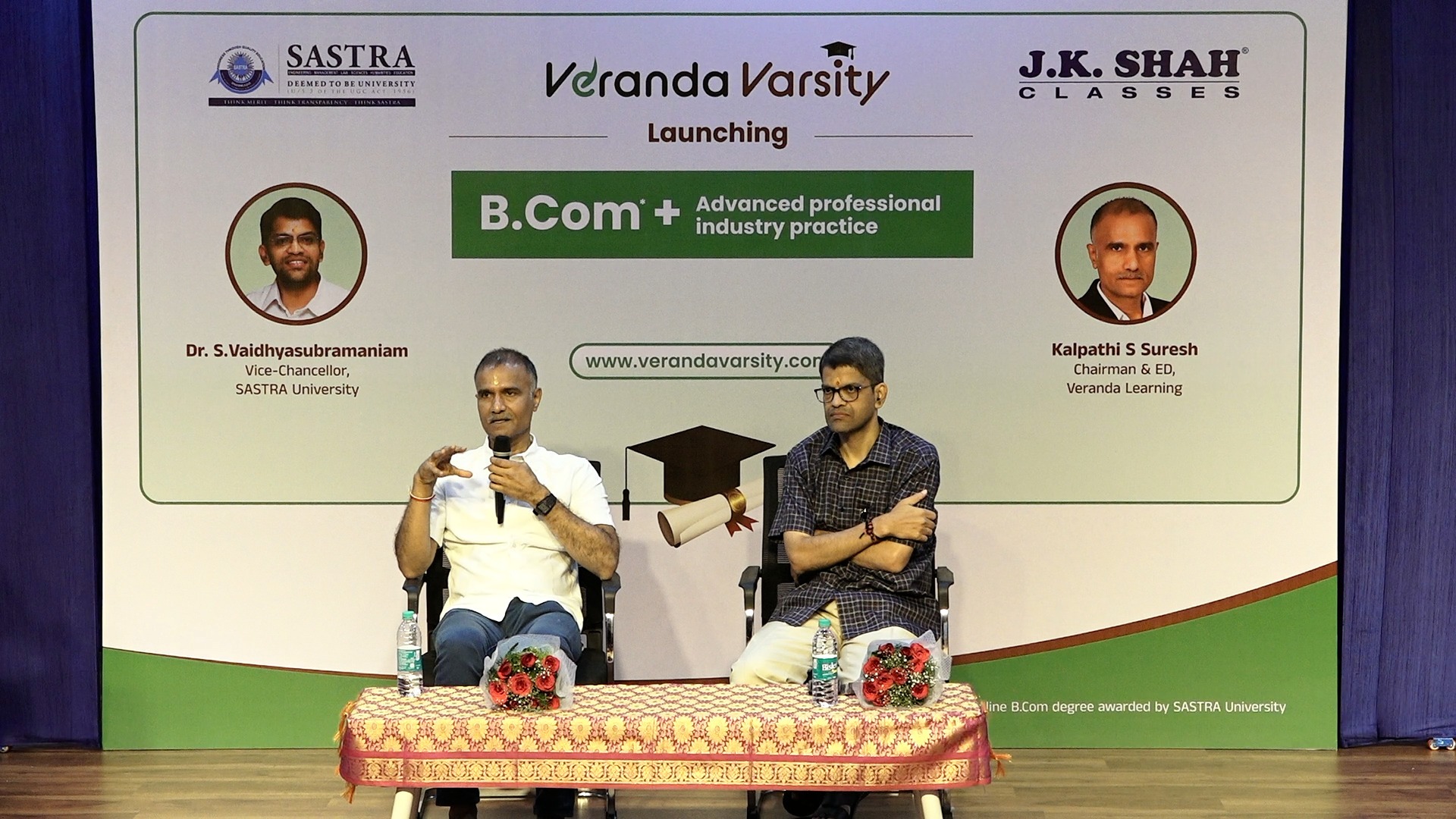 Launch B. Com Online Course with Advanced Professional Industry Practice in Collaboration with J.K.Shah Classes
SASTRA University, one of India's premier educational institutions, is joining hands with J.K. Shah Classes-Veranda Varsity to launch a bachelor's degree programme in Commerce. This strategic collaboration will offer students a cutting-edge learning experience as they get to experience the strong academic foundation provided by SASTRA University (NIRF Ranking of 22 in 2022) and the four-decade-old teaching excellence of J.K. Shah Classes.
The curriculum has been carefully crafted to align with industry standards, enabling students to develop the knowledge and skills necessary for a successful career in the field of finance and accounting. Dr. S. Vaidhyasubramaniam, Vice Chancellor of SASTRA University feels this course will open a plethora of opportunities for the students. "We are very confident that this course will lay the foundation to a wide array of opportunities for the students. Our extensive curriculum, to be taught by dynamic professors, will help students to gain a clear understanding of industry practices," said Dr. S. Vaidhyasubramaniam.
Mr. Suresh Kalpathi, Executive Director and Chairman, Veranda Learning, believes that this course is a win-win situation for the students. "We have the finest B. Com course offered to you from a reputed institution like the SASTRA and JK Shah Classes, who are pioneers in the commerce teaching space in the country. The course, with internships, placement training and many other benefits, gives you an option to appear for any of your professional certification exams. For any reason a student fails to crack it, because about 90% falter as per statistics, he/she will still have rock-solid plan B because of the top-notch B. Com program they are part of," said Mr. Suresh Kalpathi. 
ABOUT J.K SHAH CLASSES
Having started its operations in 1983 by Professor JK Shah, the institute has, over the years, become synonymous with success and top-quality coaching. Professor JK Shah has been instrumental in coaching thousands of Chartered Accountant (CA) aspirants. JKSC began just as a class for Costing subject to CA Final Students but has gone to expand its offerings and is today a pioneer in the field of coaching Commerce aspirants for professional courses such as CA, CS, CMA, CFA, 11th and 12th coaching for Maharashtra state board, CBSE and ISC and much more. Over 70,000 students enroll in JKSC each year.
ABOUT SASTRA UNIVERSITY
SASTRA had a humble beginning in 1984 and is today a deemed university offering undergraduate, postgraduate, and doctoral programmes in Engineering, Management, Law, Sciences, Humanities, and Education. SASTRA's teaching programmes are complemented by research engagements, consultancy assignments, training, and extension activities. It had been re-accredited by NAAC (fourth cycle) with a maximum grade of 'A++' (3.76/4.00) and is a Category I Institution based on the UGC's categorization of Universities for Graded Autonomy Regulations, 2018.
ABOUT VERANDA LEARNING SOLUTIONS
Founded in 2018, by the Kalpathi AGS Group – Veranda Learning Solutions is a public listed education technology company that offers a bouquet of training programs for competitive exam preparation, including State Public Service Commission, Banking, Insurance, Railways, IAS, and CA, as well as a slew of professional skilling and upskilling programmes. Veranda Learning Solutions' platform combines technology, processes, and methodologies to provide high-quality, in-depth, personalised learning opportunities and content to learners across the country. Dedicated to creating an impact on students and delivering successful academic outcomes, Veranda adopts a multi-modal delivery system backed by a rigorous and disciplined learning framework. The company provides services through its subsidiaries: Veranda RACE, Veranda IAS, Edureka – the customer-facing brand of Brain4ce Education Solutions, Veranda HigherEd and Edureka Learning Centre. Veranda Learning has forayed into high-demand financial courses such as Chartered Accountancy through its partnership with India's premier CA test-preparation institute, J. K. Shah Classes.