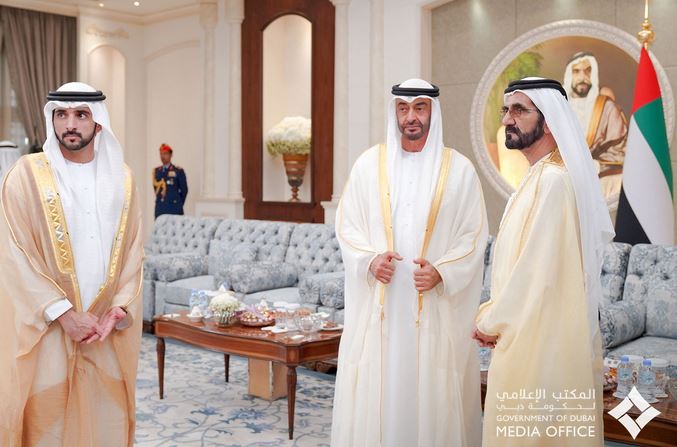 Tomorrow, Friday, the UAE will celebrate the festive holiday of Eid Al Fitr.
Dubai: His Majesty The Vice President, Prime Minister, and Ruler of Dubai, Sheikh Mohammed bin Rashid Al Maktoum, sent his warmest Eid Mubarak greetings to all of the Arab and Muslim countries.
In his tweet, he also wished a happy Eid to everyone throughout the world and prayed to Allah to accept good works, bring joy and happiness, and grant all wishes.
"Eid Mubarak to the UAE and its citizens, as well as to the Arabic and Muslim nations," Sheikh Mohammed tweeted. I also want to wish everyone in the world a happy Eid. May Allah reward you for your excellent acts, grant you peace and joy, and grant you all your wishes.
Sheikh Hamdan bin Mohammed bin Rashid Al Maktoum, the Crown Prince of Dubai and Chairman of The Executive Council of Dubai, also expressed his thoughts on Twitter. He wished for continuous blessings of prosperity, peace, and stability for the Muslim world, the United Arab Emirates, and other nations.
"Eid Mubarak to the UAE leadership and people," tweeted Sheikh Hamdan. May Allah continue to shower peace, stability, and prosperity onto the UAE, Muslim nations, and the entire world.
The deputy ruler of Dubai, deputy prime minister, and minister of finance, Sheikh Maktoum bin Mohammed bin Rashid Al Maktoum, also joined his family in expressing his best wishes.
I'd like to send my best wishes for a happy and blessed Eid Al-Fitr to the government of the UAE, its citizens, and Muslims worldwide. "May it be a time of peace and prosperity for all," tweeted Sheikh Maktoum.
Tomorrow, Friday, the UAE will rejoice in the wonderful occasion of Eid Al Fitr. The declaration follows the UAE Moon Sighting Committee's confirmation of the sighting of the Shawwal moon, which signifies the conclusion of the auspicious month of Ramadan.
Eid Al Fitr, also known as the "Festival of Breaking the Fast," is a major religious holiday observed by Muslims all around the world. It is an opportunity to share blessings and joy with loved ones, close friends, and those less fortunate while also showing appreciation for the fortitude and endurance shown throughout the month of Ramadan.