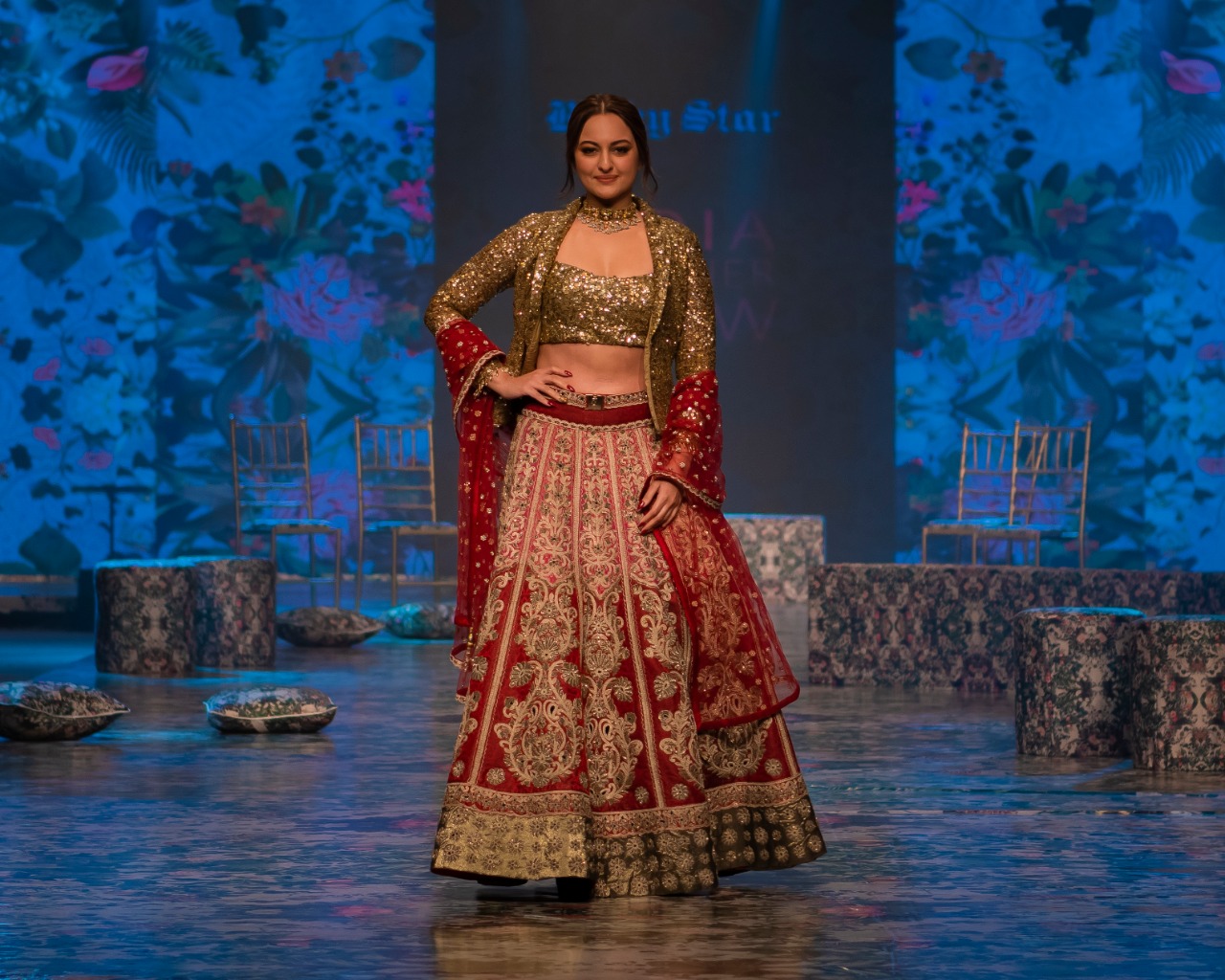 Winged Events' India designer show kicked off at Major Dhyanchand Stadium in New Delhi, with a celebrity line-up that included Sonakshi Sinha, Nargis Fakri, Daisy Shah, Shehnaz Gill, and others, as well as renowned designers like Rosy Ahluwalia, Amit Aggarwal, Manali Jagtap, Vandna Kumar, Sharvan Kumar, and Rocky S. in the finale.
The India Designer Show brings luxury and lifestyle designs together under one roof highlighting exceptionally gifted artists and designers. The fourth edition kicked off with some spectacular and fashion-forward Indian designer lines. This one-day fashion cum exhibition was organized by Ronit Aggarwal and Bibin Babu (the Founders of the India Designer Show). It featured elegant collections by some renowned and emerging Indian designers in the fashion industry, as well as a show stopper at the grand finale by Rocky S and live performances by Shilpa Surroch and Shibani Kashyap.
The India Designer Show 2022 will be exclusively sponsored by prominent brands like Parlimentarian (magazine Partner), The Artiste Foundations (associate partner), Travel Unravel (travel Partner), Skin Plus as the gifting partner Brand Monkey (Digital Marketing Partner), and Exchange 22 (gaming partner), Innowork, Fabriclore (association partner), Laalten Lounge & Bar (catering partner) among others.
Several celebrities graced the occasion, adding to the night's glamour quotient. Here are some of the event's most memorable looks.
Sonakshi Sinha became the muse for celebrated Indian designer Rocky S for his new festive collection.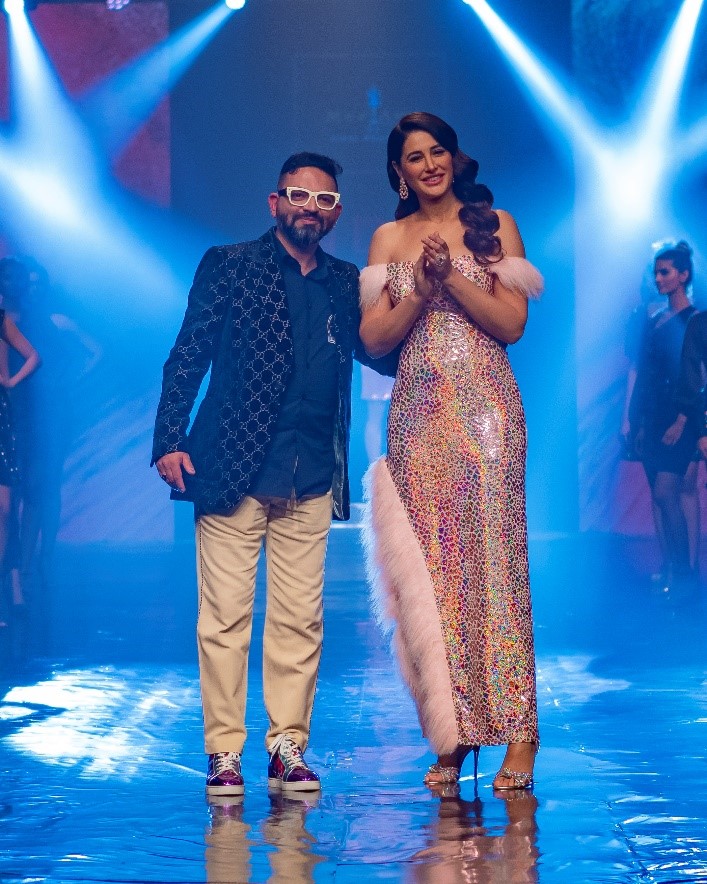 Nargis Fakri looked stunning in a vintage gown and a gorgeous bouncy hairdo nostalgic of 1950s Hollywood actresses. His designs have a timeless charm and combine traditional components with contemporary flourishes to produce high-quality, unique pieces. The day & night theme will highlight two clothing lines, one for the day and one for the night, which will perfectly complement each other. The entire line of clothing is meticulously designed to fit all lifestyles and body types and has gained recognition.
Shravan Kumar depicts the Royal era as well as the revival of Nakshabandhis. His showstoppers were Sini Shetty (Miss India World 2022) and Bollywood sensation Arbaaz Khan who looked dapper in ethnic. His prized possession is an 1823 garment he purchased from a Hyderabad royal family. He has also obtained clothing from royal families in Jaipur, Patiala, and Gwalior. Shravan is a weave revivalist who keeps and restores various weaves alive. His goals include fostering a fresh interest in sustainable and ethical apparel production as well as the preservation and celebration of cultural heritage.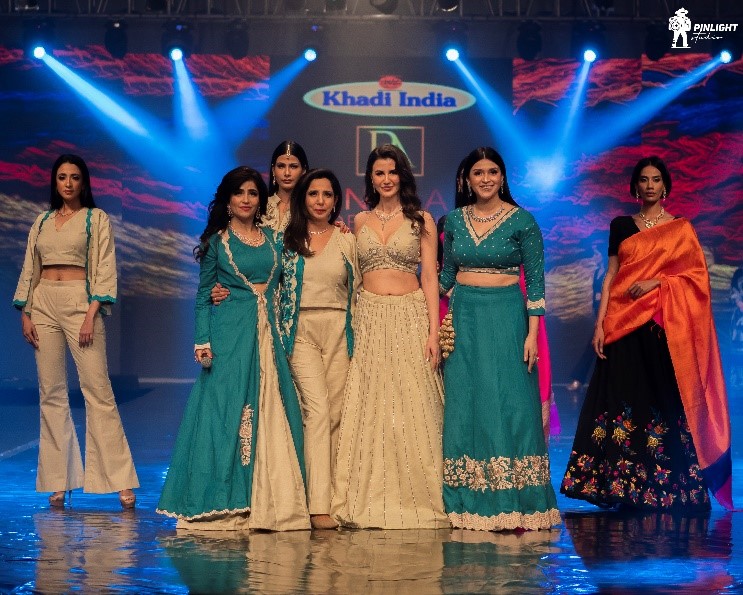 Shehnaaz Gill stole the show in a pink floral gown for designer Ken Ferns at the 'Indian Designer Show' Season 4 in Delhi. She looked stunning in the soft pink mermaid gown, which featured sequined flowers on the bodice. The video of her ramp giddha has garnered much love from her fans across the globe and everyone loves the confidence with which she took over the stage.
Shibani Kashyap, Rosy Ahluwalia, Georgia Andriani, Manara Chopra
Vandana's Ranng Label presented Genesis, which represents the journey of motherhood and recreation. This maternity collection line is inspired by the stages of motherhood so that women feel stylish, confident as well as comfortable.
Shubhi Garg Designs presents Symphony, a perfect blend of combining traditional and modern clothing. She uses contemporary design aspects with traditional crafts and techniques, creating her pieces using lace, beading, and embroidery.
"India Designer Show is a luxury lifestyle designer show showcasing art and design by extremely talented Indian individuals as well as Indian brands under one roof! We have created this platform to provide a common global stage to showcase stunning collections that highlight Indian culture and sophisticated glamour," says Ronit Aggarwal Founder & Organizer of IDS.
"Our focus is on providing a global platform for Indian designers and Indian Brands to get their extremely talented designs the recognition they deserve." says co-founder Mr. Bibin Babu.