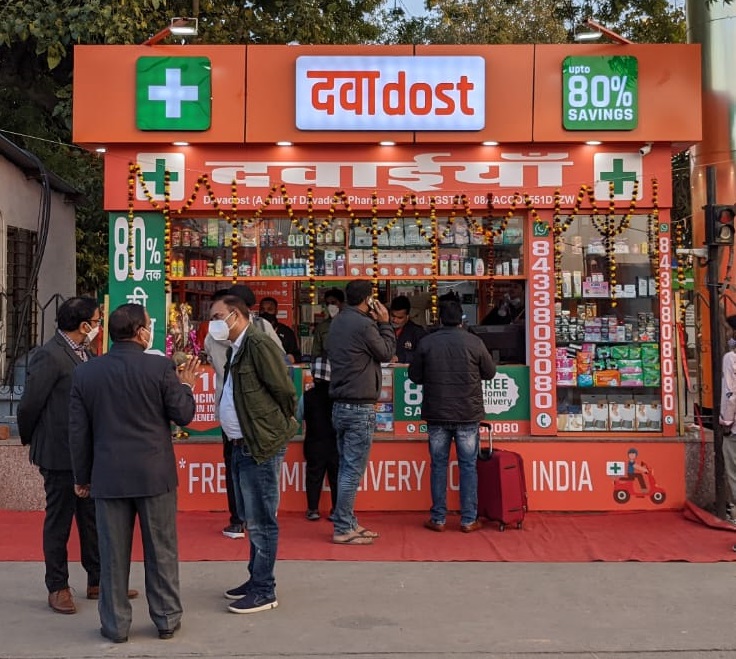 Startup Dawaa Dost  seeks to address healthcare issues  and cut drug costs by 50–80%.
Dawaa Dost has been run by Amit since 2018 along with his coworkers Yash Harlalka (COO) and Anirudh Batwara (CTO). Cut to almost five years later, when it has established 70 outlets in nine cities around Rajasthan, Karnataka, Telengana, Maharashtra, and Delhi, reaching approximately 19,000 pin codes. Customers can already access services both online and offline because to the company's omnichannel business approach.
According to Amit, "We are the only platform that is fully resolving the healthcare dilemma." Dawaa Dost was the first private business in India to get funding from Grameen Impact in April 2022.
It has also received less than $4 million in funding, supported by well-known angel investors like Kunal Shah (CRED), Arun Srinivas (Facebook, Ola), Kanika Kalra (McKinsey & Company), Saurabh Garg and Amit Agarwal (No Broker), AN Seshadri (Nalanda Capital), Amit Lodha (Fidelity International), Pankaj Khusrani (Elastic, Google), Ashish (Cue Math, Unilever).
Dawaa Dost makes the commitment to at least halve prescription drug costs. This is made possible by buying drugs directly from reputable pharmaceutical firms like Cipla, Zydus, Abbott, and Sun, which guarantees savings of up to 80% on each prescription, according to the company.
The business asserts that its stores, kirana-tech strategy (a cooperation with more than 2,500 kirana stores across Rajasthan), and website have helped over 3.2 million individuals save Rs 400 million. According to Amit, "Our stores are structured as 'omni-channel units'; they serve as both physical stores and fulfilment centres for online orders. They are also situated in high foot traffic places such close to bus stops, train stations, and metro stations.
Dawaa Dost had 1.5 million consumers compared to Pharmeasy's 2.4 million annual transacting users. This demonstrates that our model is considerably more scalable and has better unit economics, according to Amit.
A team of pharmacists from the company created Mediwiki, a search engine-based video library, in 2021 with the goal of improving user comprehension of their medications. 50 million Indians have viewed the platform's over 3.5 million videos, which are available in six different languages. Its Karma Dost web programme reminds users when to take their medications.Karma dost, an android app with 59,000 downloads, is used by 100,000 individuals throughout India and, according to Amit, has increased medication adherence among users by more than 60%. Leela claims that the app has been crucial in ensuring that her parents take their medications on schedule.
Dawaa Dost wants to serve more than 400 million Indians, create a GMV of over Rs 200 crore, and build a user base of four million active transacting users in the upcoming year. Additionally, it is experimenting with a last-mile delivery service called Dawaa Dost Express (DD Express), which would assist direct-to-consumer (D2C) healthcare businesses in providing swift commerce deliveries to clients. Next year, it intends to expand DD Express to include over 50 collaborations.
"We are expanding across the country as we see exponential growth. Within this year, we want to expand Dawaa Dost to three more cities in Rajasthan and add 100 physical stores. We intend to expand pan India with our kirana tech model in 2024 to further enter India's hinterlands," Amit says.