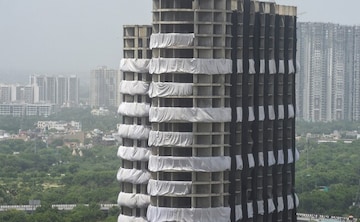 The demolition of Supertech Ltd's twin buildings in Noida resulted in a loss for the real estate company of roughly Rs 500 crore, including construction and financing charges, according to the company's chairman RK Arora.
According to a Supreme Court judgement that determined their construction inside Emerald Court premises to be in breach of standards, the approximately 100-meter-tall twin buildings Apex and Ceyane were dismantled at 2.30 pm on Sunday. In this operation, explosives weighing more than 3,700 kg were deployed. About Rs 20 crore will be spent on the demolition alone.
According to Mr. Arora, "Our overall loss is about Rs 500 crore, taking into account the amount we have spent on land and construction costs, the fees we have paid to authorities for various approvals, the interest we have paid to banks over the years, and the 12% interest we have paid back to buyers of these two towers, among other costs."
The Emarald Court development by Supertech at Sector 93 A on the Noida Expressway included these twin towers. Over 900 apartments spread over the two buildings are currently valued at more than Rs 700 crore on the open market.
According to Mr. Arora, the combined built-up area of these two towers is almost 8 lakh square feet.
He continued, "We built these skyscrapers in accordance with the building plan approved by the Noida Development Authority.
When asked how much it would cost to demolish the buildings securely, Mr. Arora responded that Supertech would be paying Edifice Engineering Rs 17.5 crore, which would also include the cost of the premium for a Rs 100 crore insurance policy. There are a number of additional expenses related to the destruction as well.
For the project, Edifice hired South African specialists Jet Demolitions.
The Supreme Court ordered the twin towers to be demolished in August of last year and mandated that homebuyers receive a full refund with interest calculated at 12% from the date of booking.
In addition, the Supreme Court mandated that the Residents Welfare Association get Rs 2 crore in compensation for the harassment brought on by the twin towers' construction.
The court had ruled that Supertech's twin 40-story towers, which contain 915 apartments and 21 shops, were built with the Noida Authority's cooperation.
Separately, Supertech declared in a statement that its other projects will not be impacted by the demolition. "More than 70,000 apartments have been finished and delivered to customers. We are committed to delivering the remaining units to homebuyers within the scheduled time period. We reassure all of our home buyers that the Supreme Court's order won't have an impact on any other projects that are now underway and that all other projects will still be completed "It was added.