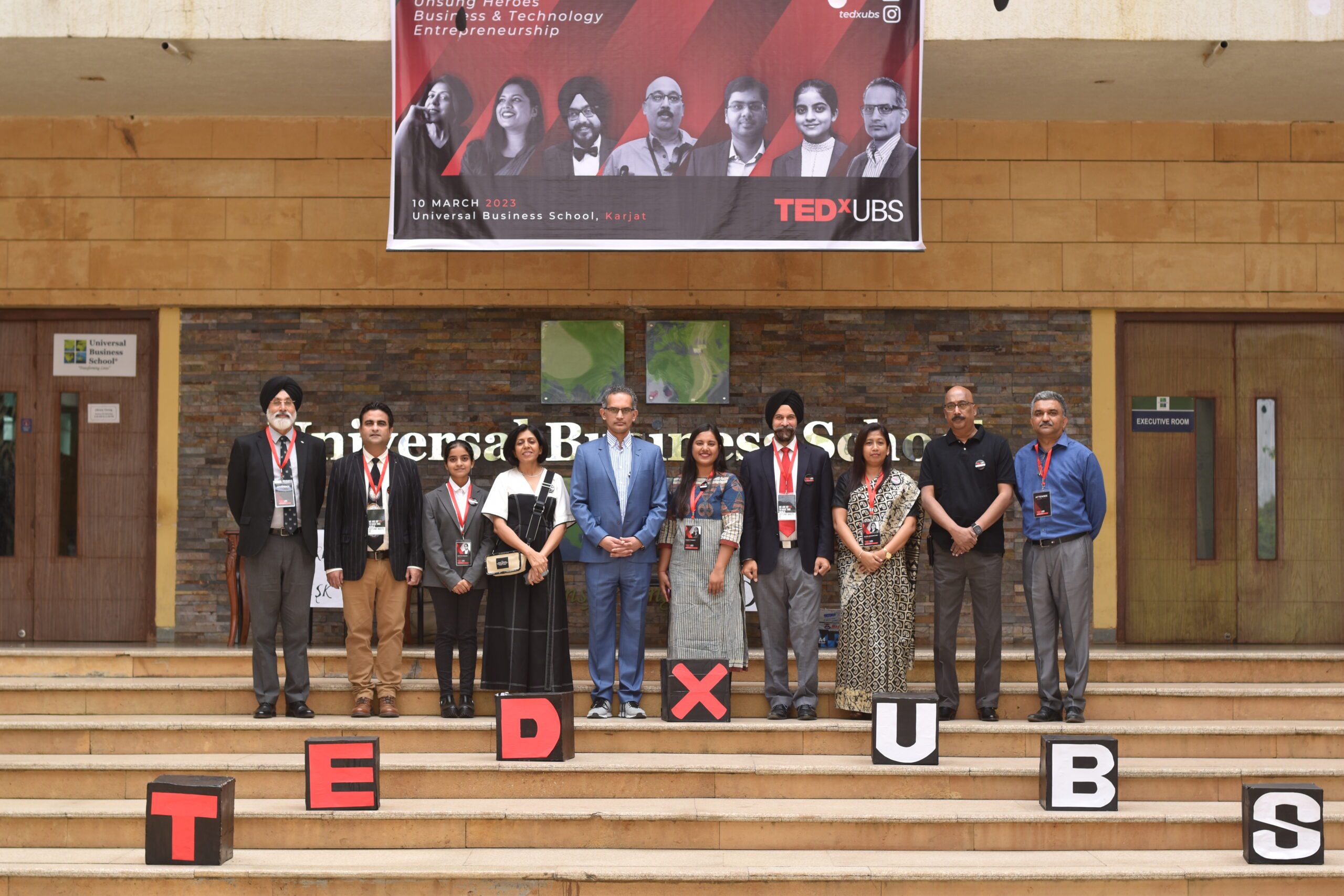 On 10th March 2023, Universal Business School, Karjat hosted the highly anticipated TEDx UBS – "Worlds Imagined" which was a huge triumph, drawing in a large crowd of individuals eager to hear from some of the most thought-provoking and innovative speakers under the tracks of Business and Technology, Sustainability, Unsung heroes, Entertainment, and Sustainability with AI. All enthusiastic attendees had a great time – diving deep into an event of exploration and acquisition of knowledge, forming new perspectives, creating new connections, and sharing indispensable opinions and sentiments.
With the theme of "Worlds Imagined", the speakers at TEDx UBS offered inspiring and impactful talks that left the audience feeling motivated and energized. The event showcased the power of ideas and the importance of bringing together diverse perspectives to create meaningful change.
Mr. Indranil Sircar of the core student team expressed his thanks to all for attending the first TEDx organized by Universal Business School and talked about the theme of the event. In his words, "Today we are here to discuss the power of imagination and how it can be used to create a better future for all of us", which was further emphasized and elaborated by Prof. Elora Basumatary, Head Organizer of the event and Program Director at UBS, in her speech. She said as we face some of the biggest challenges of our times like climate changes, social inequality, and technological disruptions, the power of imagination can lead us to many opportunities to find solutions to these problems.
Prof Tarundeep Singh Anand, Chairman Universal Business School gave a felicitous speech and said, "UBS was also an imagination in 2008, and today it is a thriving society of wonderful faculty and learners", stating how important imaginations are, as aptly added in the context of the theme.
Among the speakers was Mr. Aman Goel who spoke on how to be a successful entrepreneur, Mr. Kundana K Lal on the advent of AI, Miss Harpita Pandian on being a young achiever and how to be successful, Mr. Manish Godkhindi on sustainability and reducing carbon footprint, Ms. Leena Kejriwal on the horrors of sex trafficking, Ms. Pankti Pandey on sustainability and reducing waste and Mr. Taranpreet Singh who gave us a holistic view of entrepreneurship and technology startup ecosystem, all of whom captivated the audience with their insights and expertise. Their talks sparked important conversations and encouraged attendees to think in new directions and take the power of imagination to create a new world.
The success of TEDx UBS – "Worlds Imagined" can be attributed to the hard work and dedication of the organizing team, who worked tirelessly to ensure that the event ran smoothly and was accessible to everyone. Ms. Nikita Agarwal, head of the core student team in her closing address stated, "the idea was to establish a forum for provoking new thoughts and igniting meaningful conversations", this was ideally accomplished. Attendees praised the quality of the talks and the inclusive and welcoming atmosphere of the event.
"TEDx UBS – "Worlds Imagined" was an incredible experience that left me feeling inspired and energized," said Mr. Preet Chandra (attendee TEDxUBS), "The speakers were truly remarkable and offered unique perspectives that I had never considered before. I'm grateful for the opportunity to have attended this event."
The event has left a lasting impact on attendees and has sparked meaningful conversations.
The success of TEDx UBS – "Worlds Imagined" is a testament to the power of imagination and the importance of coming together to share them.