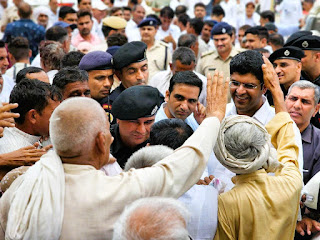 Dushyant Chautala, popularly known as 'peoples Deputy CM', emerged tall after astonishing debut of his political party in 2019, securing 18% vote bank with ten legislators and consequently a king maker of forming Govt in Haryana. Many thought that he achieved his goal but for Dushyant it was a beginning.
Dushyant, along with his brother Digvijay Chautala and mother Naina Chautala, MLA from Dabwali were expelled from INLD in 2018, just 11 months before scheduled state elections. Dushyant wasted no time and rather than getting in battle of ownership of INLD he formed his own party JJP (Jannayak Janta Party). This decision surprised many state leaders who termed it as 'move of novice' & outfit of 'Bunch of Boys' but Dushyant was seeing which no one else could.
In that year, the JJP won 10 seats in the assembly and ate into heavyweight candidates' constituency in Haryana, relegating it to kingmaker place in the state.
Dushyant cobbed coalition with BJP and became Dy. CM taking charge of ten important ministries. In all, JJP bagged a post of Dy. CM, a cabinet minister and one state minister. Dy. CM kothi in Chandigarh became Janta Darbar Kothi where people flog from various part of Haryana and meet Dushyant directly. This Darbar keeps his Z category security personnel on toes but Dushyant remains among his people, making security forces job difficult.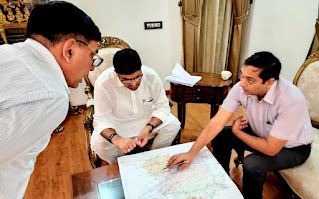 Dushyant travel extensively through all the districts of Haryana talking to, shaking hands with and mingling with people, emulating trademark style of his great grandfather Tau Devi Lal, former Deputy Prime Minister of India. Recently, while touring Hisar District his convoy was stopped by farmers as they faced a problem of waterlogged fields and possible damage to crops due to rains. Dushyant acted swiftly and directed local SDM who was with him in his protocol to immediately visit the spot and resolve issue. He sensed the urgency and magnitude of the problem & same evening senior officials of irrigation department, Dy. Commissioner, Supdtt. Of Police and other officials were summoned for emergency meeting at his hisar residence. Emergency fund was released for purchasing of equipment and matter got resolved very next day.   
A born leader, Dushyants rise in 8 years is a story to tell and as he says 'the woods are lovely, dark and deep. But I have promises to keep, and miles to go before I sleep'.  
Written by: Prateek Som Advocate-Supreme Court of India National Spokesperson-Jannayak Janta Party