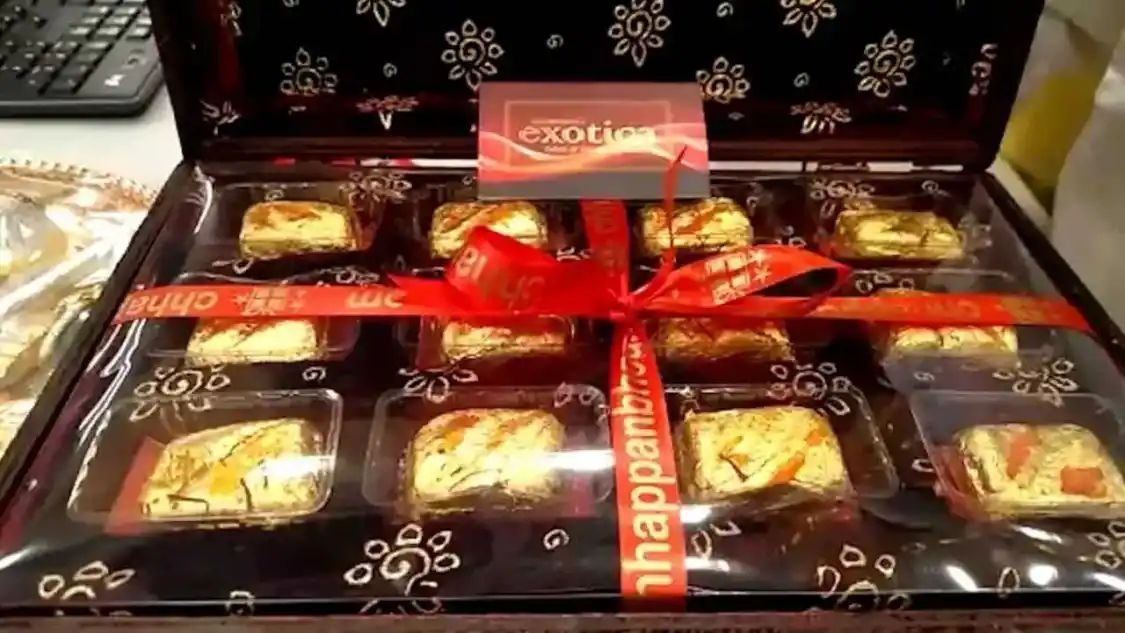 India is a country where sweets are very important, and during festivals, sweets are everywhere. We are eager to indulge in some of the delectable delicacies as Diwali approaches. In India, there are numerous mithais available in a variety of shapes, tastes, textures, colours, and price ranges. However, there are some mithais that are so outrageously expensive that you might need to think three times before purchasing them. No, we are not playing a bluff. Here are a few of India's priciest mithais.
The exotica
Given that it could actually cost you a fortune, this must be the first item. One of the priciest mithais, it costs Rs 50,000 per kg. Chhappan Bhog, a renowned manufacturer of premium sweets from Lucknow, India, creates this mithai, which is exotic in both name and cost. This premium mithai has ingredients from South Africa, Australia, Europe, and the USA. No wonder, this mithai is from Nawabon ka Shahar.
Arq Besan Laddo
Artwork from the Arq workshop in Delhi is indeed a luxury. No, it is not your regular besan ka laddo but with French Valrhona chocolate inside. Here comes the most important part. This besan ka laddo is not just creative but too expensive. This mithai, dusted with a layer of edible gold, range from Rs 21000 to Rs 31000 per kg.
Suvrana Mithai
Prashant Corner of Mumbai's Thane is the vendor of this exquisite mithai. We are astonished that this mithai costs Rs 9000 per kg. These mithais are prepared from organic Mamra almonds, which are a native of Iran, according to a report by ScoopWhoop. These almonds are well renowned for having a lot of protein, fibre, and flavour. When do you plan to attempt this mithai?
Gold Ghari
This confection, which was introduced during the Chandi Fadvo festival, was created by a Gujarati candy store. This 24-karat gold-covered version of the traditional Ghari sweet is pricey and opulent. Due to its gold leaf wrapping, it costs about Rs 9000 per kg. The owner of the shop has the opinion that in Ayurveda, metal is regarded as being highly beneficial. As the Times of India said, this dessert is therefore also healthful.
Halwa Kohinoor Gold
Kohinoor Gold Halwa is another exquisite mithai made in the city of Nawabs. Rehmat Ali Sweet Corner offers this confection for sale, which costs Rs 4000 per kg. This mithai has gold and silver sheets, milk, pine nuts, and dried fruits. This would be a perfect premium mithai is perfect to be served to your premium guests this Diwali.