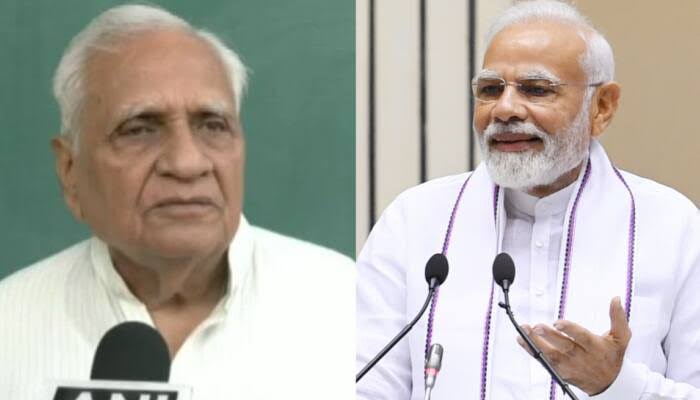 Prime Minister Narendra Modi's brother Somabhai Modi became emotional while talking about PM Modi, who visited him earlier today.
Somabhai Modi stated that the people could not disregard the job the Center has done since 2014 when discussing PM Modi's visit. Additionally, he requested that Prime Minister Modi rest. "People cannot disregard the type of work that the Center did after 2014. I urged him (PM Modi) to take a break because he puts in a lot of work for the nation "According to Somabhai Modi.
On Monday, PM Modi cast his vote in the second phase of assembly elections in Gujarat's Ahmedabad. PM Modi interacted with the media after casting his vote and said that the festival of democracy had been celebrated with great pomp by the people of Gujarat, Himachal Pradesh, and Delhi.
He also thanked the people of India and congratulated the Election Commission for conducting elections peacefully.
PM Modi urged the people of the state to vote in large numbers. The voting began at 8 am today and will continue till 5 pm. "Urging all those voting in Phase 2 of the Gujarat elections, particularly the young and women voters, to vote in large numbers. I will be casting my vote in Ahmedabad at around 9 AM," PM Modi tweeted. Union Home Minister Amit Shah will also cast his vote in the second phase in Ahmedabad today.
In 14 districts in north and central Gujarat, voting is being conducted in the second and final phase for 93 Assembly constituencies. In the second round of the Gujarat elections, 833 candidates representing 61 parties are running for office. More than 2.51 crore voters will decide who wins or loses.
Nearly 36,000 Electronic Voting Machines (EVMs) will be used, and the Election Commission has set up 26,409 polling places. In order to facilitate the polls, about 84,000 polling officers and about 29,000 presiding officers have been stationed in 14 districts.
Of the total 26,409 polling stations in Gujarat, 93 are model polling booths, 93 are eco-friendly booths, another 93 are handled by Divyang, and 14 are controlled by youth, according to Chief Electoral Officer P Bharathi. In the second phase, webcasting is taking place in 13,319 polling places.
A total of 2,51,58,730 people will cast ballots, of which 1,29,26,501 men, 1,22,31,335 women, and 894 people from a third gender, according to Bharathi. Ahmedabad, Gandhinagar, Mehsana, Patan, Banaskantha, Sabarkantha, Aravali, Mahisagar, Panchmahal, Dahod, Vadodara, Anand, Kheda, and Chhota Udaipur districts are home to the 93 seats that will go to the polls in the second round.
An total turnout of 63.14 percent was recorded in Gujarat during the first round of voting on December 1. In 89 constituencies distributed across 19 districts in the Kutch, Saurashtra, and South Gujarat regions, voting got underway at 8 am. On December 1, the first round of voting for 89 seats in Kutch, Saurashtra, and South Gujarat came to an end. 63.31 percent of eligible voters participated. The results of the Gujarat and Himachal Pradesh Assembly election will be announced on December 8.