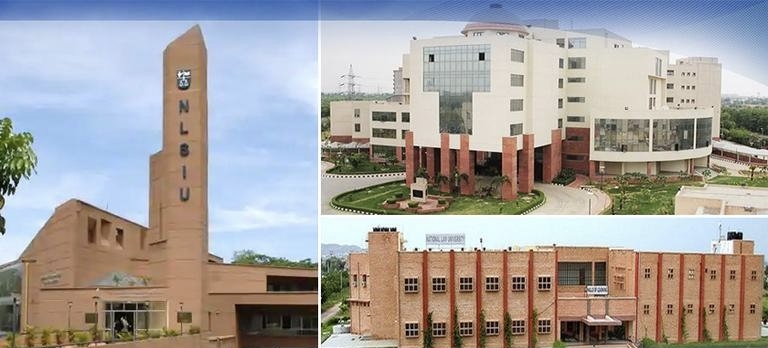 They say choosing a correct and the best college plays a very important role and it acts as a building block to make your entire life and creates a path for the best career. It is the college that brings the best in you throughout the academic years and even after that. The college, the degree, the faculty, campus, fee structure, eligibility etc are the many factors one considers while choosing the best college. And here we have short listed the top 10 law colleges in India while discussing the courses and the on-campus life for you all. Let's go straight into it now.
1)NATIONAL LAW SCHOOL OF INDIA UNIVERSITY, BANGALORE
When looking for the best law college in India, without doubt NLSIU is the choice with the college campus spanning over the 23 acres of land providing variety of Arts and Law courses. Speaking subsequently about Law courses available are 5 year BA LLB(Hons), 3 year LLB(Hons), 1 year LLM (Master of Laws) and 2 years MMP(Masters Programme in Public Policy), Ph.D(Law) and Ph.D Interdiscipinary Programme. Apart from these courses they even provide with 8 online and hybrid Programmes so as to make the education possible for people who even want to pursue outside the state or even outside India making boundaryless education possible with this future driven approach. And as said by many alumni from NLSIU, it is not about getting spoon fed there but getting to challenge the problems in real life and finding solutions by themselves is an experience there. So get ready for a challenging journey in order to shape your law career as quality education is what you get there. So please make sure you do check out this college before you go on to prefer any other.
2) SYMBIOSIS LAW SCHOOL, PUNE
The 2nd top college has to be Symbiosis law college based in Pune providing numerous courses in various different streams and since we are focusing on law. The law courses available are BBA LLB, BBA LLB(Hons) and LLB at UG level and PG level sourses such as LLM in Business and Corporate Law, Criminal Law and security Law, Constitutional Law and Administrative Law, Family Law, EU Law and Educational Law, Innovation Technology and Intellectual Property Law, Human Rights Law and many more such as Diploma in International Business Laws and Corporate Laws in India. Apart from the courses, campus life at Symbiosis is an experience in itself. As said by many, the atmosphere provided there, the crowd and the academic life really shapes one's students entire law life.
3) NALSAR UNIVERSITY OF LAW, HYDERABAD
Situated in Hyderabad providing the courses such as 3 years LLB in Law(UG),5 years Bachelors of Laws(B.A.LLB-Hons), 2 years LLM(Masters programme), LLM and M.Phil Law at PG level and Ph.D Law. This law school stands 3rd in our list as it provides the seats to only around 120 students out of 80,000 students. The competiton is super high for a single seat and students do make it to Nalsar from all over the country. At Nalsar, however it is compulsory to reside in the hostels. But living in hostels for sure give certain experiences along with academics that helps student grow independently. So if you are looking forward to get into Nalsar, be prepared to grow as an independent student.
4) NATIONAL LAW UNIVERSITY, JODHPUR
As the vice chancellor of NLU has clearly stated the fact that law education has transcended over the boundaries of a classroom. With this being said the vision of NLU is crystal clear so as to provide knowledge and education that is not just limited to four walls. The courses available are BA.LLB, BBA.LLB, BSc.LLB, BCom.LLB at UG level, and LLM Corporate law and LLM Intellectual property Rights at PG level and Ph.D Law. Provides the infrastructure with well maintained classrooms, moot courts, conference hall, mess, gym, sports complex, auditorium, IT Services an much more.
5) NATIONAL LAW UNIVERSITY, DELHI
Established in the year 2008, NLU(Delhi) aims high so as to provide the law education with utmost quality. Courses provide are LL.M, BA.LLB(Hons) and 1 year and 2 years Bridge courses in Law and PG courses such as LLM, Diploma in Environment Law and Policy, Diploma in Tourism and Environmental Law and Diploma in Urban Environmental Management and Law. On understanding the vice chancellor's word it is clear that it focuses on offering a legal, interdisciplinary education that helps builds student to stand strong in research and being a responsible citizen helps in development of our country. On campus life shapes the students as it is competitive and helps the students learn from each other.
6) GUJARAT NATIONAL LAW UNIVERSITY, GANDHINAGAR
Established in the year 2003, GNLU provides B.Com LLB(Hons), BSc.LLB(Hons), BBA.LLB(Hons), BA.LLB all having a duration of 5 years and LLM at PG level and Ph.D Law and Ph.D Law part Time courses. It's campus area spans over 56 acres of land offering all the facilties of well furnished classrooms, library, labs, moot court halls and its faculty.
7) AMITY LAW UNIVERSITY, MUMBAI
Amity, a private university providing UG level courses such as BA.LLB(Hons), BSc.LLB(Hons) and PG level courses such as LLM and LLB. Amity is situated mainly near Navi Mumbai It aims at offering courses to students to help them create real-life projects to be able to withstand real world problems and find better solutions. Life at Amity is competitive as it should be. It aims to provide practical learning and has a rich library for students to choose varieties of books from.
8) INDIAN LAW SOCIETY'S LAW COLLEGE (ILS), PUNE
It is a government aided school that offers the students with 5 years BA.LLB and 3 years LLB at UG level and LLM at PG level and Diploma in Taxation Laws and Diploma in Labour Laws and Labour Welfare along with many other courses as well. The campus has a hill providing one of the best sceneries all around the year, gym, swimming pool, and the most attractive are the ILS grounds which are said to be mammoth.
9) CHANAKYA NATIONAL LAW UNIVERSITY, PATNA
Established in the year 2006, CNLU provides law courses such as BA.LLB(Hons) and BBA LLB(Hons) at UG level, LLM at PG level and LLD, Ph.D Law, Ph.D Law Part time. The campus area spreads over 18 acres of land filled with the nature's beauty, the air conditioned classrooms, a vast library, multipurpose hall, moot court, IT Labs, cafeteria, good accommodation facilities, and all othe necessities are fulfilled such as banks, ATMs, medical facilities, etc.
10) FACULTY OF LAW BHU, VARANASI
A college that's been established in 1916 providing the courses such as LLB(Hons), BA.LLB(Hons) at UG level, PGD in Law, LLM One year, LLM at PG level and Ph.D Law. BHU has a pretty good ambience offering a library, alumni association, gym, swimming pool, hostel for both boys and girls, medical facilities, auditorium, moot courts and a cafeteria.
However, we have listed the top 10 law colleges in India. But India has a variety of them and one can have many options to choose from. Law has become an integral part and so does the law colleges. Hope this article helps you where we mainly focused on the courses and the ambience of these colleges. We wish you all a very good luck for your future.
NOTE – Eligibility and fees structure for the same can be checked upon their respective websites.