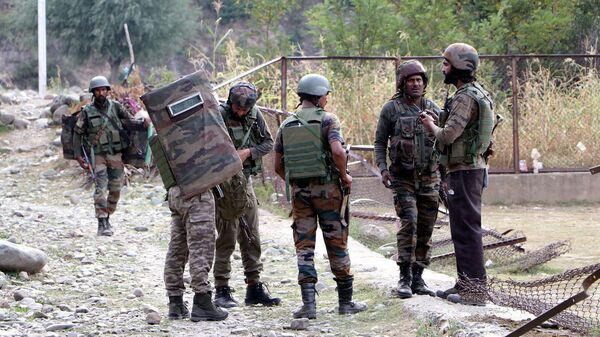 In a devastating turn of events, two Army officers and a police official bravely sacrificed their lives in an encounter with terrorists in Anantnag district of Jammu and Kashmir, according to official reports.
The encounter took place in the Kokernag area, where security forces were engaged in a fierce battle with terrorists who had been hiding in the region. The Indian Army Colonel, who was commanding a Rashtriya Rifles Unit, and the Major were leading their troops from the front based on specific intelligence, when tragically, both lost their lives.
Additionally, a Jammu and Kashmir Police official also laid down his life in the line of duty during the intense exchange of fire. The brave army officers and the police official were at the forefront of the mission to neutralize the terrorists and ensure the safety of the area.
The encounter, which has been ongoing, has already resulted in the elimination of two terrorists. The security forces, working tirelessly despite challenging weather conditions and difficult terrain, have recovered a significant amount of warlike stores, including medicines with Pakistan markings.
This tragic incident serves as a stark reminder of the immense risks and sacrifices made by our armed forces and police personnel, who selflessly put their lives on the line to protect the nation and its citizens. The supreme sacrifice made by these brave individuals will not be forgotten, and their contributions to maintaining peace and security in the region will be honored.
The nation mourns the loss of these heroes and stands in solidarity with their families during this difficult time. The bravery and dedication displayed by the Army officers and police official serve as a testament to the unwavering commitment of our security forces in safeguarding the nation against terrorist threats.
As the encounter continues, the security forces remain resolute in their mission to neutralize the remaining terrorists and maintain peace and security in the region. The sacrifices made by these brave individuals shall not go in vain, and the memory of their gallant actions will inspire future generations.
The entire nation pays tribute to these fallen heroes and expresses gratitude for their selfless service and sacrifice. May their souls rest in eternal peace, and may their indomitable spirit continue to guide and strengthen our forces in their tireless efforts to protect the nation.
Disclaimer: This news article is based on the information available at the time of writing and will be updated as more details emerge.