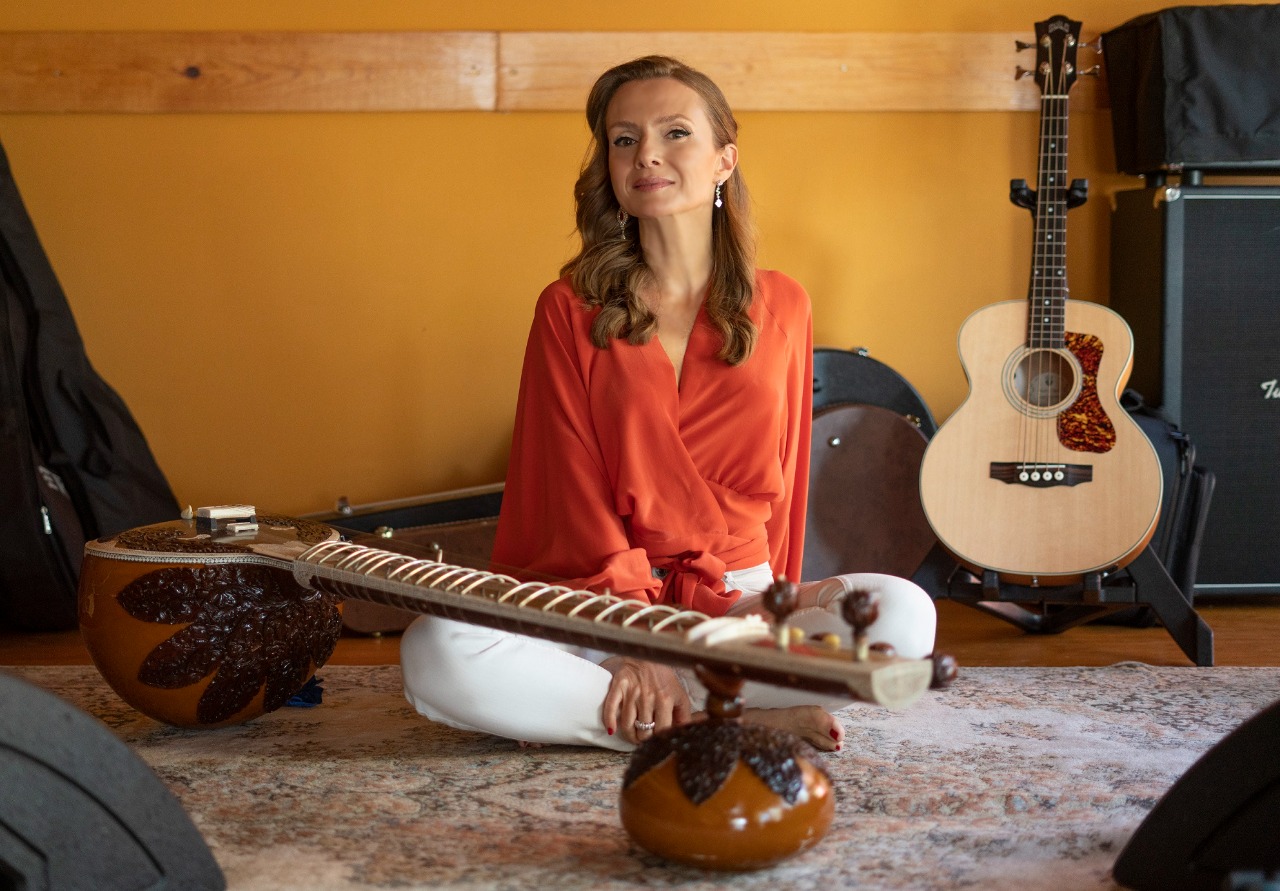 Sofia Hofmann is a German-Portuguese artist based in Lisbon, Portugal. She studied acoustic guitar with Professor Walter Lopes of Brazil. Sofia began her vocal training in 1997 with the late renowned lyric singer and vocal Professor Maria do Rosário Coelho, while she also began to write her own songs.
Sofia met her Indian classical music and meditation teacher, the late Acharya Roop Verma (disciple of Ravi Shankar and Ali Akbar Khan, as well as a Yoga Master), in 2014, who profoundly inspired and influenced her development.
Sofia is currently studying sitar with international sitarist and composer Arjun Verma, her guru's son and Ali Akbar Khan disciple. Sofia performs in Portugal (with her jazz band and as a soloist at the Lisbon Swingers Orchestra), performs in India, and collaborates with several music projects in Portugal and abroad.
Sofia Hoffmann's most recent work, 'Rebirth,' combines jazz, Indian classical music, and some of the most beautiful songs from the Lusophone songbook. It was conceived during the pandemic, which served as a reminder to seed new art, nurture diversity, and surrender to expression even more, in order to reunite the east with the west.
The repertoire chosen for Sophia's voice includes songs by great singer-songwriters, familiar Broadway and Portuguese songs, and gems from Indian cinema. Baubles, Bangles and Beads, All Blues, Both Sides Now and Nature Boy, Yeh Jo Des Hai Tera (by the celebrated composer A.R. Rahman), two pearls from the Lusophone songbook Nunca Me Esqueci de Ti and Milagre, and two original songs — Esperarei and Rebirth — Heart from the Truth are among the 11 songs on the album. Guest artists on Rebirth include singer-songwriter Rui Veloso, known as "the father of Portuguese rock," flutist Rao Kyao, and Indian sitarist and Grammy nominee Pandit Gaurav Mazumdar.
Sophia captivated us with her soulful performance on Friday evening (6th January) at India Habitat Centre's Stein Auditorium. She performed with Arjun Verma, son of Acharya Roop Verma and disciple of Ustad Ali Akbar Khan, Shonai, Deepak Castelino, Shifumi Saito, Amjad Khan, and Siddharth Jain in an evening of Western jazz standards and Portuguese songs mixed with Indian classical instruments and Ragas and a special tribute to the maestro A R Rahman.