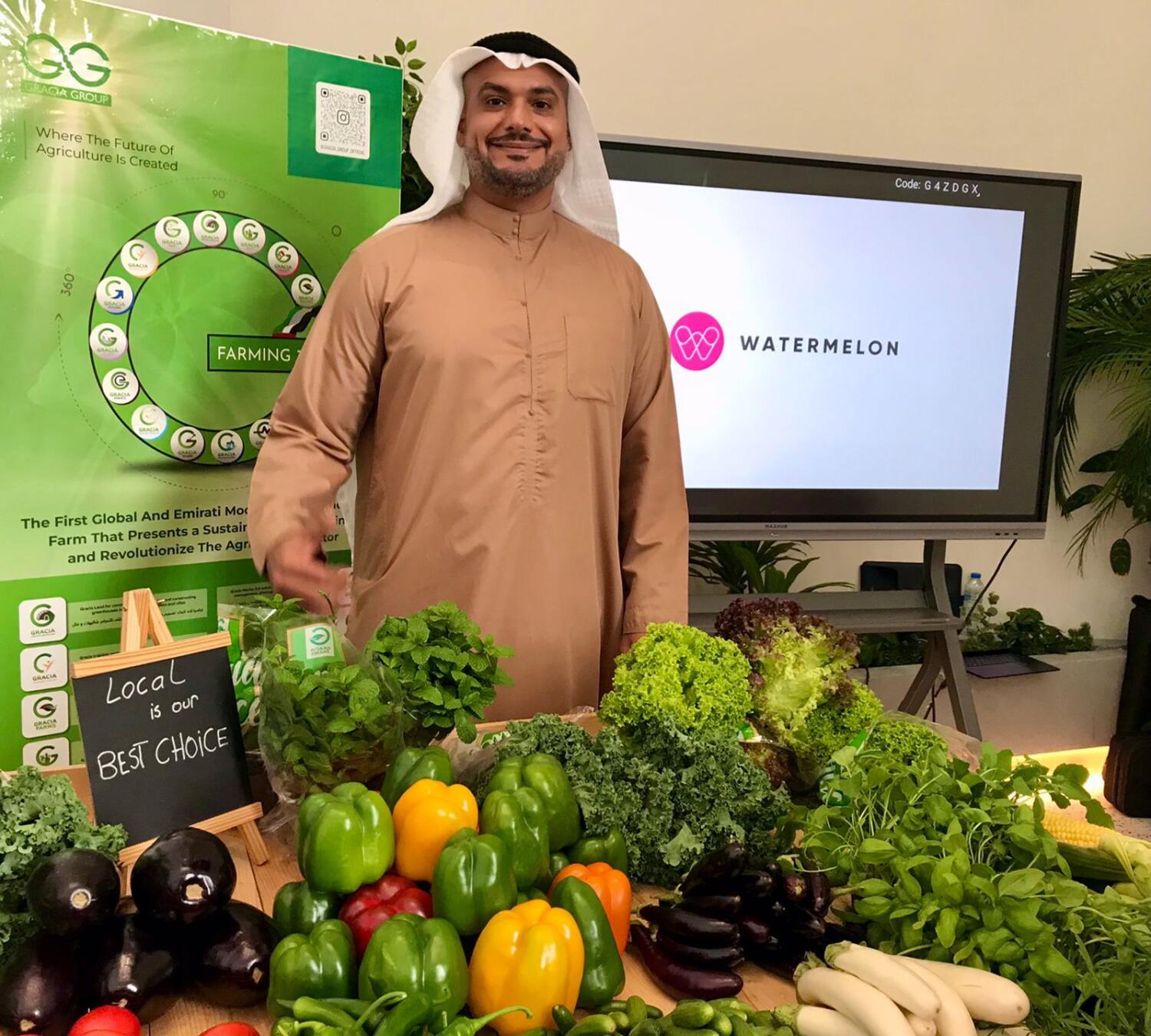 Minister notes that food can be grown locally, referring to the first harvest of protein-enriched wheat grown at a massive farm in Sharjah on Monday
The UAE is aiming to secure 50 per cent of some basic food requirements from local farms and producers by end of this year, with the aim of increasing the target to 100 per cent by 2030.
This was announced by Mariam bint Mohammed Almheiri, UAE Minister of Climate Change and Environment (MoCCE), on Tuesday during the 1st National Dialogue for Food Security (NDFS), a special initiative by MoCCE aimed at boosting production and marketing effectiveness of local farms to ensure UAE's food security.
Based on the initiative, some government and private entities, including some restaurants and catering companies, will source 50 per cent of 10 basic foods such as meat, chicken, eggs, dates, green leaves, tomatoes, etc., locally. The target is to increase this to 70 per cent by 2025, and ultimately to 100 per cent by 2030.
Food as national security issue
Almheiri said: "Inspired by the vision of our leader, His Highness Sheikh Mohamed bin Zayed Al Nahyan, President of the UAE, we regard food security as a national security issue and a driver of economic development.
"Food security is a vital sector in the UAE and around the world, especially at a time of rising challenges," she explained, adding: "In less than three years, we have experienced two major crises that posed major threats to global food security, causing disruptions in the global food supply chain, namely following the pandemic and the recent global conflicts."
Almheiri assured: "The UAE has taken major strategic steps towards promoting food security, such as deploying advanced technology to strengthen local food production and enhance the sector's contribution to closing the food gap, in addition to tackling food loss and waste by launching several initiatives, such as 'Nemah', to promote the sustainability of national farms."
'Yes, we can'
Almheiri noted the UAE has proven that food can be grown locally with the first harvest of protein-enriched wheat grown at a massive farm in Maliha, Sharjah on Monday. The harvest is expected to yield 15,200 tonnes of wheat.
"Yes, we can," said Almheiri, adding: "We are very passionate in pushing food production and our latest initiative will help local farmers not only how to produce but also how to sell. We are creating agri-preneurs (entrepreneurship in agriculture)."
"Our aim to enhance food security in the UAE by boosting production and marketing effectiveness for local farms, especially those that follow a modern and sustainable approach. As host nation for COP28 in 2023, the UAE will focus on expediting efforts to achieve the objectives of the National Food Security Strategy 2051 through partnerships and solutions that drive a paradigm shift in the agricultural sector and food systems," she continued.
Preparing for self sufficiency
Hamed Al Hamed, CEO of Gracia Group, a UAE-based comprehensive farming company, lauded the MoCCE initiative. He told Khaleej Times: "The pandemic has taught us to really prepare for agricultural self-sufficiency."
"It is equally important not only to create arable lands for planting and live-stock production but also to develop agri-tourism. We can employ technology that are suited for our environment," he noted.
Omar AlShamsi, CEO of Watermelon Market, added the latest MoCCE initiative will help local food production sustainable not only for consumers but also for the producers.
Al Shamsi said: "Local farmers have to compete against some global products that are in abundance and there are also products that are difficult to get because of logistical challenges. But there are platforms, like ours, that can help us analyse the volatility of agricultural products and we can strike a balance to ensure their availability."
Farms are blooming across the UAE. The world's largest indoor vertical farm for research and development opened in Abu Dhabi recently, and the world's largest vertical farm opened in Dubai last year.