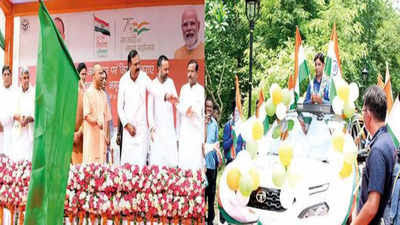 To commemorate the 75th anniversary of India's Independence, chief minister Yogi Adityanath flagged off a bike rally in Agra.
The rally's objectives were to raise awareness of the three-day "Har Ghar Tiranga" programme and to compel attendees to fly the Tricolor at their residences and other places of business.
To commemorate the event, the CM also burst 75 tricolour balloons.
After that, the CM went to the Metro depot that was still being built and performed a spot inspection of the Metro rail project. Additionally, he opened a photo exhibit about the Agra Metro train. He also revealed a Metro train from Agra in digital form.