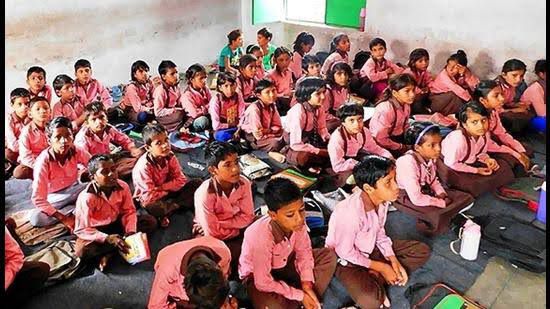 In a significant move, the Uttar Pradesh government has decided to introduce sweeping changes to school timings and study hours in the state as part of the implementation of the New Education Policy (NEP). The policy, set to come into force from October 2023, aims to bring about structural reform in the education system. Under the new guidelines, students will experience reduced study hours, altered class durations, modified school schedules, and even designated days without carrying heavy school bags.
Details:
The Uttar Pradesh government, led by Chief Minister Yogi Adityanath, has initiated steps to enforce the NEP by introducing revised rules and regulations for schools across the state. As per the new policy, the curriculum will be restructured, with major subjects such as Math, Hindi, English, and Science having class durations set at 40-50 minutes. Other subjects will have a maximum duration of 35 minutes per class.
Schools will now conduct classes for a maximum of 29 hours per week, ensuring comprehensive coverage of the syllabus while giving students ample time for other activities. From Monday to Friday, classes will be conducted for a maximum of 5 to 5 and a half hours, with individual sessions reduced from 45 to 35 minutes for general subjects. Major subjects will have classes lasting between 40 and 50 minutes.
In a bid to promote students' well-being and lighten their load, schools will now implement a "no bags" policy for at least 10 days in a year. On these designated days, students will receive oral lessons and participate in experimental teaching methods. This initiative aims to make learning more interactive and enjoyable, providing relief from the burden of carrying heavy bags every day.
Furthermore, Saturdays will observe a revised schedule under the NEP. Schools will remain closed on the first and third Saturdays of each month. On the second Saturday, schools will open but classes will only be held for 2 to 2 and a half hours. This adjustment allows for a balanced routine and enables students to engage in extracurricular and personal activities over the weekends.
The Uttar Pradesh government's proactive approach towards implementing the NEP highlights its commitment to transforming the education system. By embracing these changes, the state aims to provide students with a holistic learning experience, ensuring their overall growth and development.
With the revised school timings and study hour changes, Uttar Pradesh is poised to become a pioneer in educational reform, setting an example for other states to follow. The NEP's implementation holds the promise of revolutionizing the way education is imparted, ultimately benefiting students and shaping a brighter future for the state.