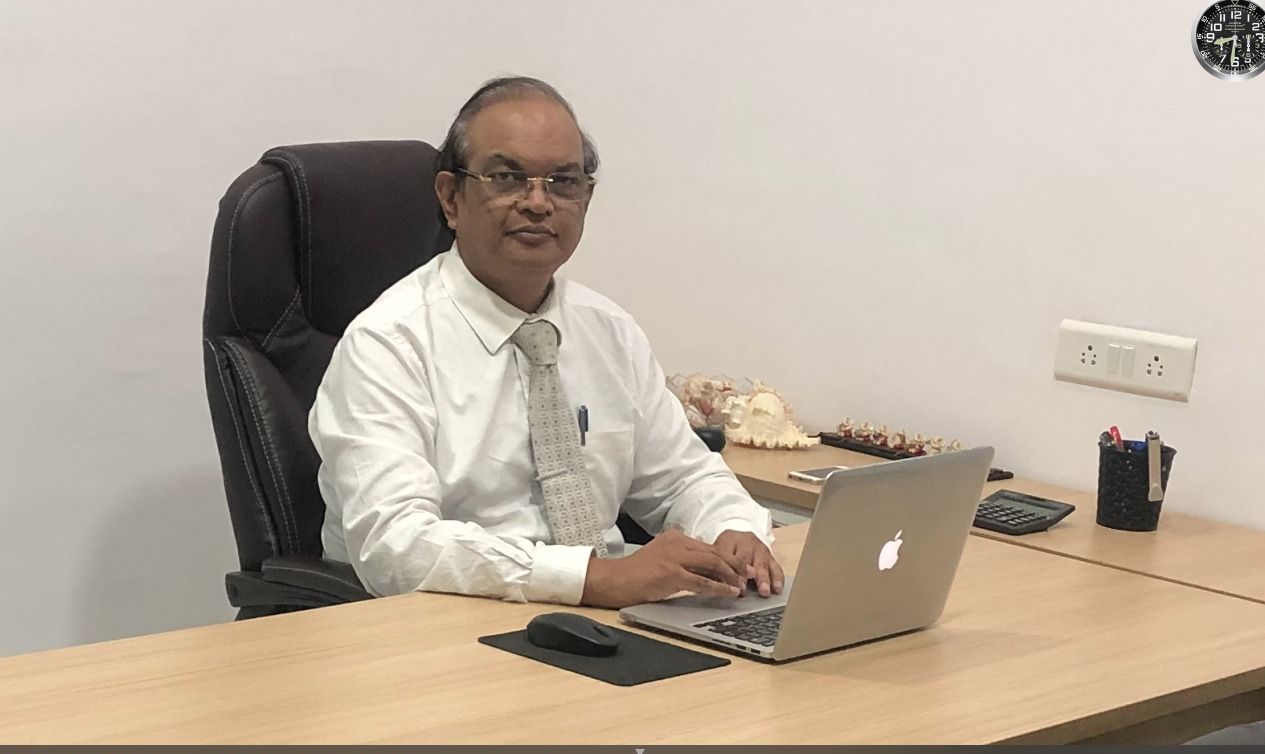 Claidroid Technologies, that began with a team of just four, is today supported by several highly experienced and certified professionals committed to deliver cutting edge, future-proof technologies.
The name "Claidroid" has been derived from the concept that since, any leading technology solution is based on either Cloud or Artificial Intelligence or Automation or combination thereof, thus, the company was aptly named Cl-ai-droid.
About the founder
The founder of Claidroid Technologies, Vinay Sawarkar, always had a passion for technologies. After completing his Engineering from Jabalpur Engineering College and M Tech with specialisation in Integrated circuits from Indian Institute of Technology, Banaras Hindu University, he joined a pioneering company, Semiconductor Complex Limited. With this, he visited Silicon Valley in mid 80s and received an exposure to the latest semiconductor technologies of the world.
He attended an annual event organised by National Association of Software and Service Companies also known as NASSCOM in 1996 in Mumbai where, he mentions that the industry leaders talked about the user experiences which would be enabled by Internet in the time to come, such as online meetings, online seminars, video and movie streaming, online music, etc.
"I clearly remember one of the industry leaders mentioning during the above event that a few years down the line Internet would enable annual events to be held online and there would be no need to attend such events physically. How prophetic ! I was absolutely fascinated. Today it is unimaginable to live without these technologies.", he said.
In mid 90's, he received an opportunity to set-up a world class Internet Data Centre in Mumbai using best of the breed technologies from around the world. The ISP was rated as No 1 in Mumbai by third party agency Ziff Davis on evaluation of various technical parameters.
Capitalising on this experience of working with the latest technologies, he established a global practice in 2001 / 2002 time frame, in partnership with technology leaders, that focused on implementing service management and security solutions for customers around the world.
In his words, "from an era when just a firewall, a complex password and an antivirus solution was interpreted to be a strong security measure by organisations in late 90s, security landscape has certainly evolved to cover various technologies including Customer Identity and Access Management solution which is aimed to provide a frictionless, omnichannel experience to millions of customers while protecting digital identity of customers. Likewise, a simple IT Service Management solution of yesteryears has now evolved into a robust Enterprise Service Management solution such as ServiceNow".
About the start-up, Claidroid Technologies
Claidroid Technologies has also set up as a local entity in Finland to serve customers in Europe.
Shravan Narsingoju, an MS from Greenwich University worked closely with Vinay Sawarkar for many years. It was with him that Mr. Sawarkar originally planned to set up Claidroid Technologies to leverage on his earlier experience of setting up global security and service management and Shravan's delivery experience of Identity and Access Management solutions to UK and Europe customers for over two decades and more specifically to Finland customers for over a decade.
Claidroid has a team of highly qualified experienced professionals. Devesh Verma, who is a Masters in IT from Australia and has worked with Mr. Sawarkar earlier for several years, heads the company's ServiceNow practice. Head of the sales, Pranav Pandya has over 35 years of experience in Sales primarily across Middle East and Europe.
Although, the Company has a modest turnover currently, they are targeting for US D 2 M in the next two years.
As of now, they are a team of 15 professionals and expect the team size to grow to about 100 by 2022 and by 200 by 2023. Looking ahead, they are planning to set up a local entity in US in 2022.
However, all this did not come with ease. The company faced several struggles during this journey. Firstly, the company was launched in June 2020 in the peak of pandemic. In the initial few months, they tried reaching out to prospective customers across various continents but couldn't get traction as the companies had tightened their IT budget in that period.
But, they turned this barrier into an advantage by reaching out to prospects through online meetings and as the months passed by, they started getting traction from the market and delivering projects.
Vision of the company
There is always a space for a nimble, agile, and responsive organisation to implement industry leading security solutions cost-effectively who are committed to be with the customer in every step of their digital transformation journey. Mr Vinay Sawarkar has firm belief that with the strong experience of the Claidroid's management team across continents for decades, the Company has been able to deliver differentiated service to its customers in their digital transformation journey.
Claidroid, today is at the cusp of the growth as they address requirement in the technologies such as ServiceNow implementation services, Automation as well as IT security services which are hugely in demand across various verticals.