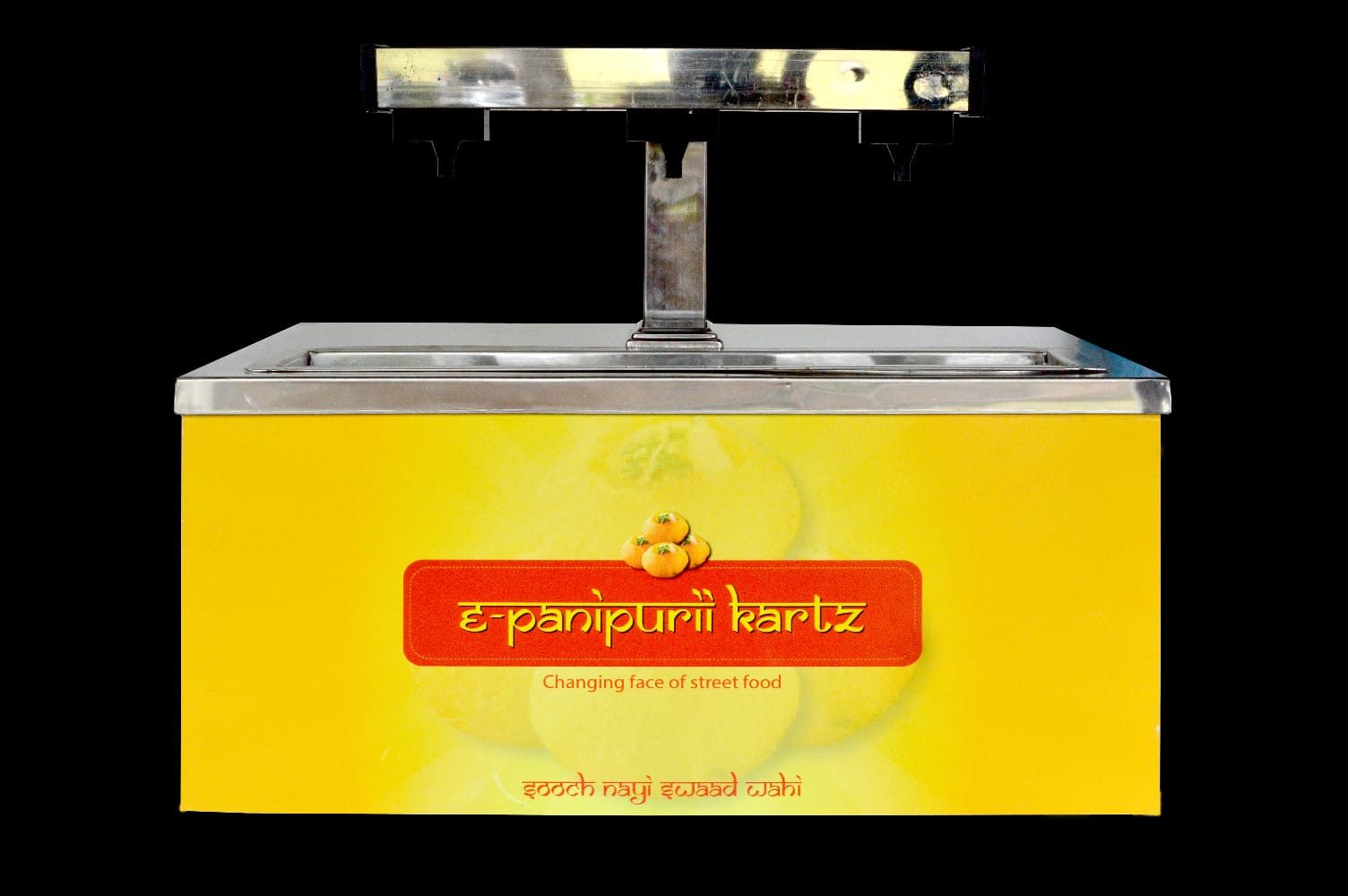 Who doesn't love a few spicy, 'melt in mouth' golgappa shots! But the hygiene concerns often play spoilsport, more so when a pandemic has forced us to maintain 'safe distance' from all such gastronomic delights. Team E-panipurii Kartz have developed a Contactless Automatic Dispensing Machine to serve this favorite street food of India, through an IoT enabled machine that can be remotely operated through a Mobile App. Currently, India has approximately 2 lac street-food vendors serving panipuri. However, there are concerns with hygiene and food safety. E-panipurii Kartz not only provides hygienic preparation and serving but also ensures food safety parameters by providing raw materials with lab tested quality ingredients, certified with Food Safety & Standard Authority of India. The machine also comes with features like auto-cleaning, low alert sleep mode & AI-ML live reports. E-panipurii Kartz have deployed 115 machines in 22+ different cities of India. The services are unique with innovative pricing/ margins and cover wide segment of customers and market; and hence promise to stand out among other players with technology integration. Incorporated in Oct 2019 in Ranchi , Incubated by SIIC , IIT Kanpur, supported by Department MSME , DST, MEITY, DBT, and many Institutions and Startup Odisha a Initiative by Odisha Government
E-panipurii kartz aims to provide Automation and Technology up gradation of Food vendors. At present it is operating from Bhubaneswar and looking to scale up Pan India.
The Team Harish Neotia , the founder & CEO of E-panipurii kartz has started this venture in October 2019 with Manisha Neotia . Harish a B.Com Dropout f rom Patna University has started his career in Mobile Handset & accessories long back in 2000. Worked with many mobile brands and built two Accessories Brand in his first venture in 2012. Due to some un-avoidable circumstances he has to shut down his Mobile accessories venture and started to research in food industry. On a deep-dive survey with food vendors in his home town Patna he found that basic need of Automation and technology up gradation of street food vendors specially panipuri vendors. After taking a survey from 200 vendors he discussed it with his social friend Jyoti Prakash Sahoo , B.Tech and IoT expert working in IT Industry and came with a solution to provide Automation for panipuri vendors, connecting tradition with Technology. The manufacturing aspect of the product is managed by Dibya Sundar Rath, MS, IIT Kharagpur, leading the mechanical & electrical department .
Services E-panipurii Kartz Automatic dispensing Machine, is a IoT enabled machine that can be operated remotely by Mobile App. The Contactless serving of panipuri in 3 innovative varieties : fills, gups, shots, 14 flavors, 28 unique recipes of spices in semi-liquid form. Integrated Mobile App for operating the machine's Dashboard, Customer Billing, Online Ordering and Digital Payment solutions. Its Automatic Stuffing Machine gives you a Unique preparation of Ingredients with a first ever kind of E-Nose Application to smell odor , record temperature and pH substances. The Puri Vending Machine gives you a enriched experience of Hygienic Panipuri totally contactless and DIY Model.