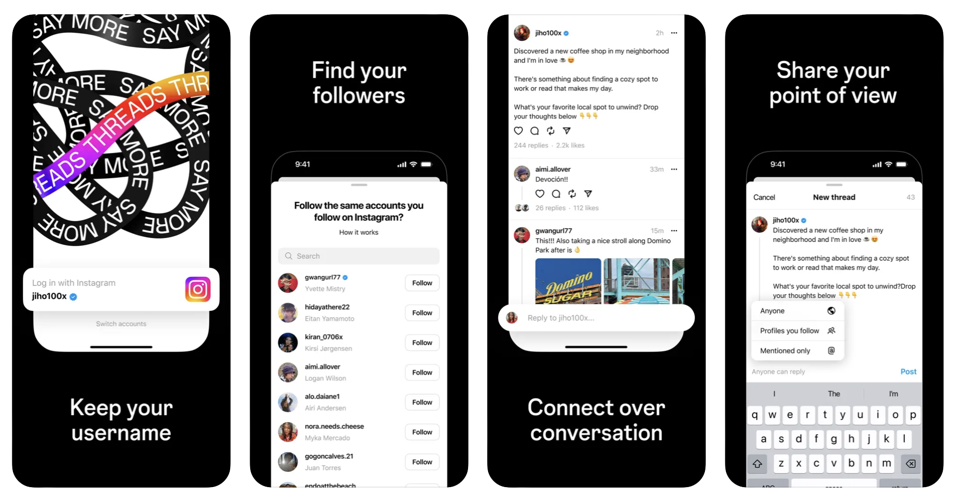 The Rise of Threads: Could This Facebook-Powered App Challenge Twitter?
Threads, the new app from Meta, the parent company of Facebook, Instagram, and WhatsApp, has officially entered the scene as a potential competitor to Twitter. In just three months since Meta confirmed its plans for the app, Threads has garnered an impressive 30 million sign-ups, including a significant number of influential brands, celebrities, journalists, and other prominent individuals.
The excitement surrounding Threads is reminiscent of the first day of school, with early adopters eagerly testing the app and crafting their initial posts. Some even speculate that Threads could become the long-awaited "Twitter killer." This sentiment is supported by the fact that Threads quickly rose to the top of Apple's App Store as the most popular free app and became a trending topic on Twitter itself.
While Twitter has faced criticism since Elon Musk took over in October 2022 and adopted a more impulsive approach, recent days have made the platform even more vulnerable. Users have expressed frustration over temporary limitations on daily content consumption. For Meta, Threads presents an opportunity to expand its empire of popular apps and introduce a new platform for advertising.
Let's delve into everything we know so far about Meta's Threads:
What is Threads?
Threads is a novel app developed by Meta, the parent company behind Facebook, Instagram, and WhatsApp. The platform bears a striking resemblance to Twitter, featuring a predominantly text-based feed. However, users can also share photos and videos while engaging in real-time conversations. Threads imposes a 500-character limit on messages, akin to Twitter's format. Users can reply, repost, and quote others' Threads posts. The app incorporates elements of Instagram's aesthetics and navigation system and allows for direct sharing of posts from Threads to Instagram Stories. Thread accounts can be designated as public or private, and verified Instagram accounts automatically carry over their verification status to Threads.
Meta CEO Mark Zuckerberg described Threads as a space designed to foster open and friendly conversations. In a Threads post following the launch, he stated, "We hope to take what Instagram does best and create a new experience around text, ideas, and discussing what's on your mind."
Signing Up and Leaving Threads
Users can sign up for Threads using their existing Instagram accounts, retaining their username, password, and account name. They can customize their bio exclusively for Threads. Importing the list of followed accounts from Instagram simplifies the onboarding process.
However, leaving Threads is not as straightforward. While users can temporarily deactivate their profiles via the app's settings, deleting one's Instagram account is the only way to delete the Threads profile. Concerns have arisen regarding the data collection capabilities of Threads and Instagram, including access to location data, contacts, search and browsing history, and contact information. These concerns are outlined in the Apple App Store's privacy policy.
Availability of Threads
Threads is currently available in over 100 countries and supports more than 30 languages on Apple's iOS and Android platforms.
Threads: The Potential 'Twitter Killer'?
Threads is the latest contender in the race to unseat Twitter as the leading platform for real-time public conversations. Unlike previous attempts, Threads may have a higher chance of success.
Since Elon Musk's assumption of control over Twitter, many users have sought alternatives. Frequent technical issues and policy changes have driven several notable Twitter users away. Meta possesses a significant advantage over Twitter due to its massive existing user base. With over 2 billion active Instagram users worldwide, Meta aims to capture a substantial portion of this audience through Threads. In contrast, Twitter's active user base stands at approximately 250 million. Zuckerberg expressed his vision of building a public conversations app with over 1 billion users, suggesting that Twitter had missed this opportunity. Twitter's new CEO, Linda Yaccarino, acknowledged Threads' launch in a tweet but maintained that Twitter's community was "irreplaceable."
Meta's existing scale and infrastructure provide a considerable advantage. Unlike other recent Twitter competitors that required waitlists or invitation-based sign-ups, Threads offers a seamless onboarding experience for users.
However, Meta must address challenges such as preventing spam, harassment, conspiracy theories, and false claims on Threads, which have been sources of discontent on Twitter. Meta has recently undergone significant layoffs, including employees responsible for user experience, well-being, policy, and risk analytics. The platform's launch coincides with the 2024 US Presidential election campaign season, raising concerns about the potential influx of misinformation. Meta asserts that its Community Guidelines will apply to Threads, just as they do to its other apps.
Meta's Motives
For Meta, Threads presents an opportunity to increase engagement among its vast user base. Although ads are not yet present on the platform, Threads could potentially supplement Meta's core advertising business. This is particularly important given the challenges faced by Meta's ad business due to the overall decline in the online advertising market and changes to Apple's app privacy practices. However, considering Twitter's history, it is unlikely that Threads will attract as many advertising dollars as Meta's other platforms.
While Meta's intentions may include enhancing its advertising business, the rivalry with Elon Musk, with whom Mark Zuckerberg has engaged in public banter recently, could be the driving force behind the development of Threads. Perhaps winning the battle of social networks is the ultimate victory.
In conclusion, Threads has emerged as a formidable contender in the realm of real-time public conversations. Backed by Meta's extensive user base, the app offers a familiar yet refreshed experience. As users flock to Threads, its success will depend on maintaining engagement, upholding community guidelines, and standing out from competitors. With the potential to challenge Twitter's dominance, Threads represents a significant development in the ever-evolving landscape of social media.