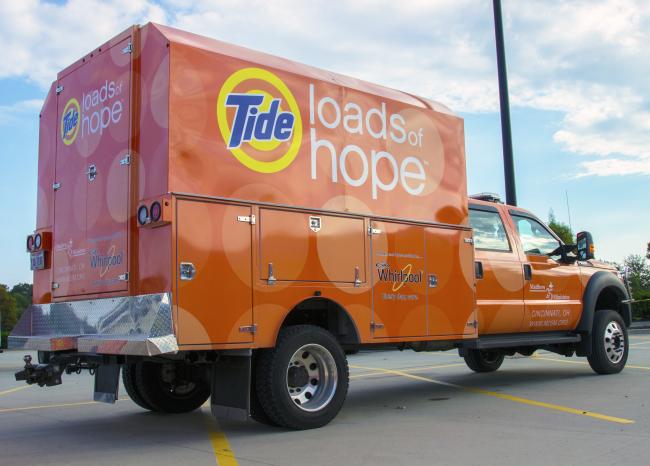 WHO: In the wake of a deadly tornado outbreak across Mississippi, families, individuals, and first responders in need of personal care items, cleaning supplies, or laundry services.
WHAT: In the wake of a terrible tornado outbreak across Mississippi, the Tide Loads of Hope Mobile Laundry Unit, sponsored by Matthew 25: Ministries, has been deployed to support relief and recovery operations. The mobile laundry unit will start operating in the affected areas, offering individuals who were harmed by the recent tornadoes free full-service laundry. Residents are welcome to bring clothes (up to two loads per household) for free washing, drying, and folding. All washable garment kinds, with the exception of heavy bedding, will be accepted.
P&G will also give away free personal care kits filled with necessities in cooperation with Matthew 25: Ministries. These kits will also include cleaning supplies for basic house and personal hygiene requirements.
WHY: A horrific tornado outbreak that struck Mississippi overnight destroyed numerous cities and claimed lives. Many people lack access to clean water and electricity.
P&G has a tradition of giving back to the communities where we live, work, and serve consumers. We want to support people in need by giving them access to daily necessities so that they may feel more normal during this difficult time. Both the disaster victims and the volunteers assisting with the response can access these resources for no cost.
WHERE: Beginning on Tuesday, March 28, the crew will collect laundry in a single affected area at a time, continuing until the daily capacity is achieved. Also, the crew will deliver cleaning supplies and first aid kits right to the affected neighbourhoods.
Please visit Tide's Twitter and Instagram accounts at @Tide and https://www.instagram.com/tidelaundry/ for specific locations and times.
TIDE LOADS OF HOPE BACKGROUND Tide Loads of Hope has been offering free laundry services to families impacted by catastrophes for more than 15 years. Tide Loads of Hope is a mobile laundrette that can finish hundreds of loads of laundry each day. It was established in the wake of Hurricane Katrina in 2005. Around 90,000 people in the United States and Canada have benefited from the programme, which is run in collaboration with Matthew 25: Ministries, a global humanitarian aid and disaster relief organisation.
In order to provide millions of people in need with clean clothing, Tide has pledged to increase its Loads of Hope initiative tenfold as a core element of Tide Ambition 2030, with a focus on the communities most adversely affected by climate change. Visit https://tide.com/en-us/our-commitment/loads-of-hope to learn more.
Avon, Bounty, Charmin, Crest, Dawn, Febreze, Ivory, Gillette, Mr. Clean, Olay, Old Spice, Oral-B, Pampers, Pantene, Safeguard, Secret, Swiffer, Tampax, Tide, and Venus are just a few of the P&G brands that will be supplied.
PARTNER: Matthew 25: Ministries, a global humanitarian help and disaster relief organisation, and P&G collaborate to offer these services. You can learn more by visiting www.m25m.org.
Anna Fobair can be reached at [email protected] for P&G and Tide media inquiries.