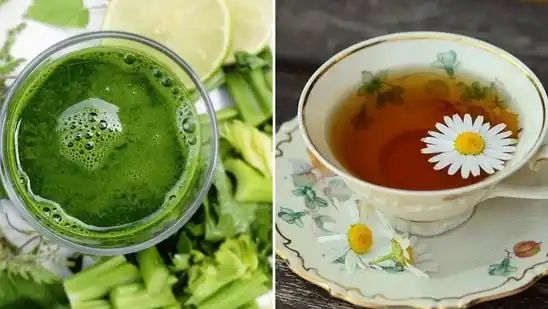 World Arthritis Day 2022: Best drinks and beverages to reduce arthritis pain
With over 100 different types, arthritis is a crippling joint illness that can result in swelling, soreness, stiffness, and excruciating pain in the joints.
Joint inflammation can develop for a number of reasons, including familial history, advanced age, obesity, or previous joint damage. Even though there is no known cure for arthritis, symptoms can be effectively managed by maintaining a healthy weight and consuming a diet rich in the necessary vitamins, minerals, antioxidants, and other nutrients. This aids in maintaining a healthy weight in addition to enhancing general wellbeing.
"Older adults frequently struggle with arthritis, which causes joint pain and muscle swelling. Some of the typical signs of arthritis are stiff muscles, aches, swelling, and redness. The main causes of arthritis are obesity, family history, age, and prior joint damage. However, this condition can be controlled with the proper nutrition. A balanced diet and good nutrition are essential for good health "says Dt Gagan Sidhu, the managing director of Gleuhr Skin Clinic and the chief dietitian of Dt Gagan's Clinic.
Here are a few drinks or liquids Sidhu recommends to ease arthritic discomfort.
Cow milk
Cow milk is a fantastic source of calcium and high-quality protein, both of which are essential for maintaining healthy bones. Additionally, it contains casein and whey, which have been reported to help decrease blood pressure, as well as magnesium, which is crucial for maintaining healthy bones and muscles.
Additionally, milk is a terrific source of potent nutrients that are good for a healthy body, including vitamin A, zinc, thiamin, iodine, vitamin B12, and potassium. Conjugated linoleic acid (CLA), which aids in lowering blood cholesterol levels, is another component of cow milk. Cow milk is regarded as one of the greatest drinks for arthritis despite having some anti-inflammatory qualities. Make sure you can tolerate lactose and that you are not inflamed after consuming milk.
Water
Water is a miraculous beverage that can address a variety of health issues. For those with arthritis, making sure they get enough water throughout the day is essential. Your body is better able to remove toxins when it is properly hydrated. Water also keeps the joints lubricated and reduces inflammation. Additionally, it helps avoid gout attacks, which can make arthritis pain worse. For best outcomes, sip on 8 to 10 glasses of water each day.
Herbal Teas
There are numerous advantages of tea for arthritis. Tea has anti-inflammatory qualities that reduce joint and muscular discomfort. All teas, whether they are green, white, or black, are enhanced with the virtues of polyphenols. However, green tea includes epigallocatechin 30 gallate, one of the most advantageous components for treating arthritis (EGCG). In addition to herbal teas, particularly useful ingredients for arthritis include turmeric, ginger, black pepper, cinnamon, nutmeg, hibiscus, and rose bud. Particularly rich in gingerol and highly beneficial in decreasing inflammation is ginger tea. Additionally, it has analgesic qualities that will lessen joint discomfort. Teas are rich in antioxidants, which not only reduce general swelling but also aid in the healing of injured tissues.
Smoothies
Smoothies are filled with micronutrients like magnesium, potassium, and iron that help to lessen inflammation, pain, and cramping in the muscles. Additionally, it contains beneficial fatty acids (Omega 3), which are obtained from the seeds and nuts that have been added and which enhance the health of the bone and cartilage and stabilise the hips and knees. For additional advantages, you can include yoghurt in these smoothies. Probiotics, which are found in yoghurt, have been shown by recent study to be a beneficial medication in treating different types of arthritis because of their immunity-boosting and anti-inflammatory qualities.
Fresh juices or vegetable juice
Consuming fresh juices help reduce inflammation, one of the main causes of arthritis. Vitamin C and antioxidants, which are beneficial for reducing inflammation, are abundant in vegetables and fruits like carrots and tomatoes as well as fruits and vegetables like pineapple and oranges. By consuming these liquids, you can help stop the free radicals that cause inflammation. Juice consumption on a daily basis can greatly enhance bone health. Juices do, however, contain sugar and calories, so be sure to take them in moderation.