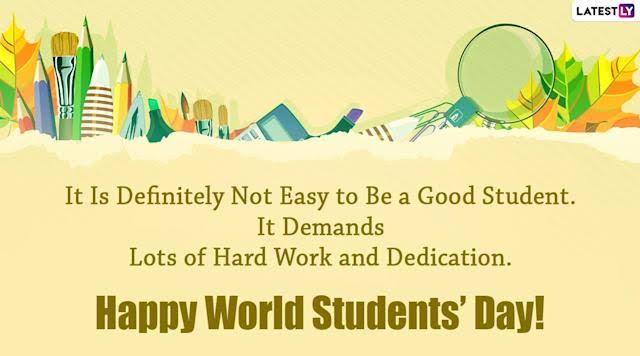 India is observing World Students' Day today. World Students' Day is celebrated on October 15 to mark the birth anniversary of former President APJ Abdul Kalam.
World Students Day is celebrated only in India no one knows how it originated, United Nations have have confirmed that World Students' Day on October 15 was not officially declared by the UN.
The main purpose of this day is to remember the contribution of Kalam in the field of education. His insightful lectures and his dedication to teaching inspired students largely to become the best versions of themselves.
Dr Kalam was a great teacher, an eminent scientist and a great statesman who served as the 11th President of India between 2002 and 2007.
Dr Kalam always encouraged his students to become the best versions of themselves. "If you fail, never give up because F.A.I.L. means 'First Attempt In Learning'. End is not the end, if fact E.N.D. means 'Effort Never Dies.' If you get No as an answer, remember N.O. means 'Next Opportunity', So let's be positive," Dr. Kalam said.
On World Students' Day 2022, we remember how the former President had always encouraged students to dream big and never be afraid of failure.
Abdul Kalam always believed that students are the future and possess the progressive minds that would take our country forward to new heights of success in every sphere. World Students Day came into existence to celebrate Abdul Kalam's love for his students.
Dr Kalam is also a role model for teachers. President Kalam believed that only good teachers can make great human beings.
Dr Kalam was born on October 15, 1931, to a Tamil Muslim family in Rameswaram on Pamban Island, then in the Madras Presidency and now in Tamil Nadu.
In his school years, Dr Kalam had average grades but was described as a bright and hardworking student who had a strong desire to learn. He spent hours on his studies, especially mathematics.
He served as an inspiration to many students to achieve and do something remarkable.
After his tenure as the President came to an end, he became a visiting faculty at the Indian Institute of Management (IIM) in Shillong, IIM-Indore and IIM- Ahmedabad.
Apart from his successful career as a scientist, President and academician, Dr Kalam was loved for his jovial personality.
Brought up in a humble family, he wanted the world to remember him as a teacher. Dr Kalam believed that students are the future and that the country can attain heights of success with their progressive minds.
He laid emphasis on providing a vision for life for students and inculcating fundamental values which one must practice throughout their life.
World Students' Day 2022: Theme
This year's theme for World Teachers' Day is "the transformation of education begins with teachers".