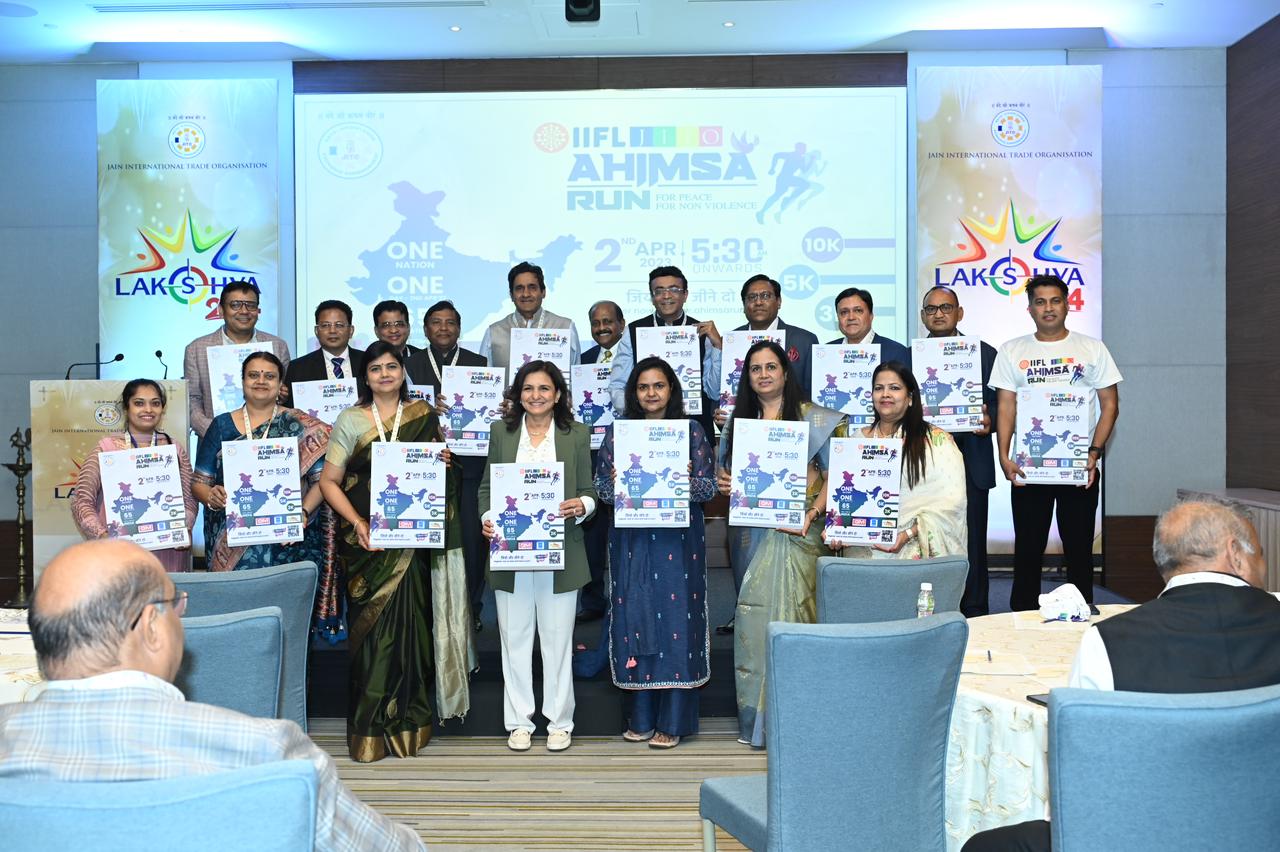 The mega event organised by JITO is expected to make marks in the Guinness World Records, Words Records of India and the Limca Book of Records
Mumbai, March 10th, 2023: Jain International Trade Organisation (JITO) has organised the 'IIFL JITO Ahmisa Run' to promote peace and non-violence. This is a first-ever such initiative globally. The 'Ahimsa Run' is expected to break the records and make marks in: The Guinness World Records, Words Records of India and the Limca Book of Records.
JITO, a socio-economic global organization dedicated to Service, Knowledge and Economic Empowerment of the society, has organised this mega 'Ahmisa Run' across 65 cities in India and at 20 international locations. The 'Ahimsa Run' will take place on Sunday, 2nd April, 2023 at 5.30 AM IST. People from India and across the globe, and from all walks of life and communities, can participate and run for the cause.
JITO has organised  'Ahimsa Run' as a unique initiative to celebrate the birth anniversary of Shraman Bhagwan Mahavir, the 24th Tirthankar (Supreme Preacher) of Jainism. The event will spread the awareness about importance and relevance of 'Ahmisa' (Non-violence) in everybody's life, which is one of the greatest enunciations of Shraman Bhagwan Mahavir.
Elaborating on the theme of the event, Ms Sangeeta Lalwani, Chairperson, JITO Ladies Wing said, "The 'Ahimsa Run' is the first ever initiative to connect people from within the country and all across the globe for peace and non-violence, which is essential for building peace-loving communities. This Run will observe the vows of non-violence and re-iterate Shraman Bhagwan Mahavir's precious teaching that every living being has sanctity and dignity, which should be respected through actions, speech, and thoughts. The goal of this initiative is to help people know the importance of love, forgiveness and sacrifice as forms of non – violence, which are necessary for leading better lives and building harmonious societies".
"We invite every family from India and Across the globe to participate to mark this historic event for peace and non-violence", appealed Ms Lalwani expecting this event to witness participation numbers in lakhs to mark a world record.
Smt Smriti Irani, Union Minister, Ministry of Women and Child Development and Ministry of Minority Affairs greeted the Organisers on this occasion and hailed the cause of the Ahimsa Run. Other eminent personalities like Music Maestro Mr. A R Rahman, former Cricketer and Member of Parliament Mr. Gautam Gambhir, an ace woman cricketer and a Captain of India Women's National Cricket Team Ms Harmanpreet Kaur, have welcomed the cause and appealed to people at large to run for peace and non – violence and make the event successful.
IIFL is the national grand sponsor of this event with GM and MICRO LABS as the co -sponsors.
On the occasion of 'Lakshya' programme, the JITO dignitaries announced this historic global event  in the presence of luminaries like Mr Nirmal Jain, Chairman of IIFL, Mr Ramesh Jain, Chairman of GM, Mr Dilip Surana, Chairman and Managing Director of MICRO LABS were present along with eminent dignitaries from JITO Mr Sukhraj Nahar, Chairman, Mr Rajendra Jain, Vice Chairman, Mr Abhaya Shrishrimal, President, Mr Kantilal Oswal, Vice President, Mr Kushal Bhansali, Vice President, Mr Manoj Mehta, Secretary General, Mr Sanjay Jain, Secretary), Mr Sanjay Lodha, Secretary), Mrs Sunita Bohora, JITO Ladies Wing Director – in – Charge and Mrs Sangeeta Lalwani, Chairperson of JITO Ladies Wing.