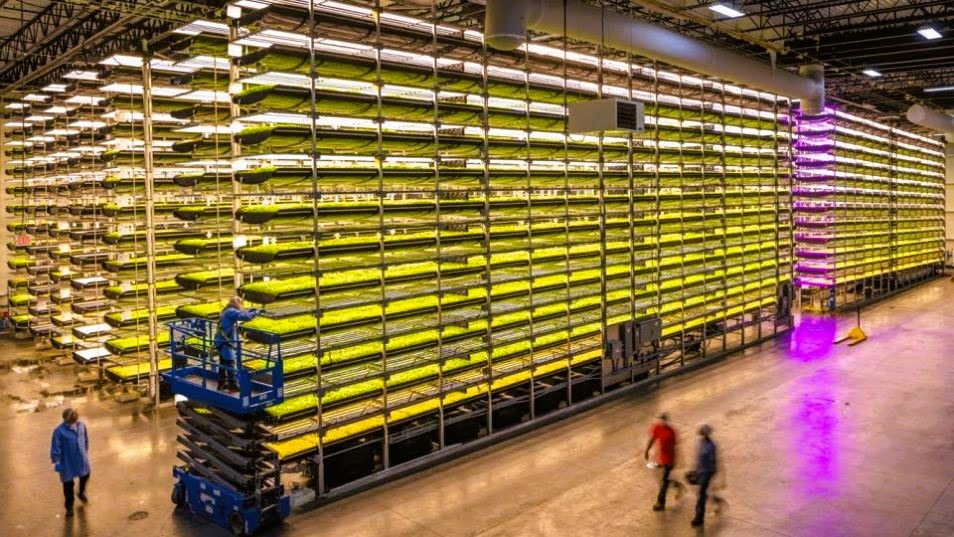 Finding new methods to grow food is becoming more and more crucial as the environment in many regions of the world becomes hotter and dryer. There are farms springing up all over the place, and vertical farming is one popular approach. Although there are already a number of vertical farms in the United Arab Emirates, one of the hottest and driest areas on earth, the biggest one only recently opened.
According to estimates, ECO 1 is not only the largest vertical farm in the UAE but also the largest in the world, measuring 330,000 square feet, or more than three square city blocks. The facility functions similarly to previous vertical farms by employing LED light and a precisely calculated mixture of nutrients to produce plants without soil or sunshine.
During photosynthesis, chlorophyll and red and blue light interact to make glucose and cellulose, the building blocks of cell walls (which can now be artificially recreated). Because they remove parts of sunlight that plants can't effectively utilise, such heat, LEDs can produce this effect more quickly than the sun.
The Dubai facility has the ability to produce more than two million pounds of leafy greens annually and will grow lettuce, arugula, mixed salad greens, and spinach.
ECO stands for Emirates Crop One, and the vertical farm is a partnership between Emirates Flight Catering and Massachusetts-based Crop One Holdings (the catering business that serves Emirates Airlines). The vertical farm will produce greens that will be served aboard Emirates flights and sold in grocery stores in the UAE. The greens are cultivated in a sterile environment without pesticides, herbicides, or chemicals, making them ready to eat and eliminating the need for washing.
The United Arab Emirates is in many ways the perfect site for vertical farming, if not one where the technology will soon become essential. Given that it has little water and receives a lot of sunlight (it served as the field testing location for a nanoparticle technology that aids sandy soil retain water and nutrients), vertical farms might employ solar energy to grow food indoors while using 95% less water than conventional agriculture.
Following the pattern of most vertical farms, ECO 1 is situated not far from Dubai. A growing proportion of people will buy all of their food in supermarkets rather than having any of it grown on farms or in gardens as the world's population continues to rise and urbanise.
As a result, agricultural yields must rise dramatically, and since most of the world's arable land is already cultivated, we face a challenge in increasing our capacity to produce food. The world's largest vertical farm, ECO 1, officially launched this week, but given the exponential growth of these developments, it won't be long before it is eclipsed by another.