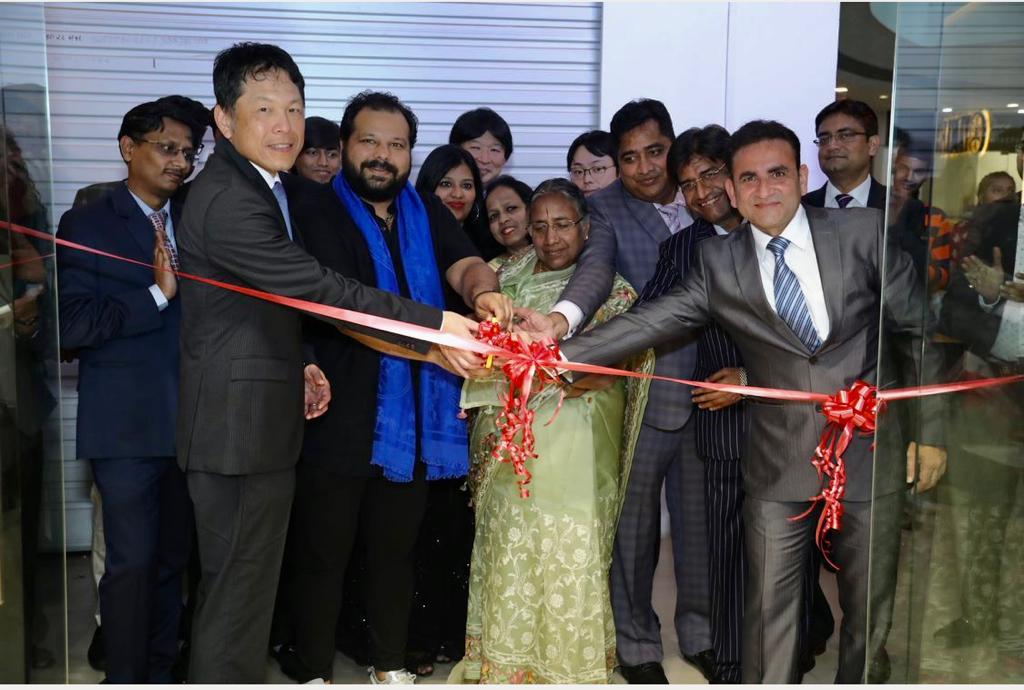 Yamaha Music Comes To Mumbai
The music connoisseurs of Mumbai will not need to search for Yamaha Musical Instruments with any other stores as Yamaha Music Square has been opened at Malad East in Mumbai. They are Yamaha's Authorized Premium Partner for Mumbai.
This biggest showroom of India and exclusive Yamaha Music products has been built across 3 storeys at the Express Zone, Wing A, in Malad (East), Mumbai, a commercial hub of the entertainment industry. Two brothers Arvind Harlalka and Alok Harlalka along with their mother Rajkumari Harlalka are instrumental in this venture. Musicians themselves, this family from Kolkata has a long association with Yamaha. Comments Arvind Harlalka, "We have nearly 10 years of association with Yamaha Music as their Sole Authorized Distributors of West Bengal, Sikkim & North East of India catering to more than 300 dealers. This experience has been most satisfactory". He continues, "We have an instrument to suit every need and ever budget such as Pianos (Grand / Acoustic & Digital), Synthesizers, Keyboards, Guitars (Acoustic, Electric and Bass), Drum Kit (Acoustic / Electric ), Saxophones, Home Theatres, Mixers, Sound Bars, Speakers, Ear Buds, Head Phones, Musical Instrument Accessories like Guitar Strings, Drum Stick, Drum Head, Reeds, Straps, Cables, Plectrum etc.
Among the many unique things witnessed is that a customer can feel touch and play all the instruments that ranges from Acoustic Pianos to compact Keyboards. So whether one is a music artist, hobbyist, teacher or a student, he/she will find something of interest. And the brand is Yamaha.
The showroom was inaugurated by Ken Hiraoka, Managing Director of Yamaha Music in the presence of Gino Banks, Drummer and Rhythm Shaw, Guitarist along with Rehan Siddique, Business Head , Yamaha Music India also graced the occasion.
Mr. Hiraoka, while inaugurating the showroom said, 'Mumbai is the entertainment capital of India. Bollywood and the lot of Music connoisseurs emerge from here. It is only logical that the biggest showroom in India of Yamaha is in Mumbai".
Brought by Gretex Group – a big name in finance, Stock Market & Music Industry, now this showroom by  Gretex Industries Limited, promises to be a must visit place.